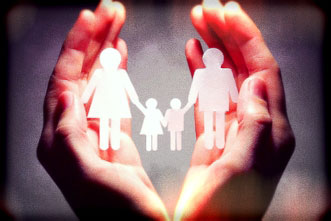 When you think of challenges in family ministry, your first thoughts may surround logistical matters: There are not enough gold fish for the preschool, the flannel graph of Moses has been lost, or one of the speakers went out in the youth wing. While these are challenges that family ministries face, they are not the most pressing. Over the course of eight years of serving in family ministry, I have noticed that there are three fundamental challenges that ministries to families face.
1. People believe that educators are responsible for the moral, spiritual, and educational formation of their children.
This idea has rooted itself in the local church because parents turned their God-given responsibility over someone else. The Bible is clear:


Train up a child in the way he should go; even when he is old he will not depart from it. (Proverbs 22:6 ESV)

You shall love the LORD your God with all your heart and with all your soul and with all your might. And these words that I command you today shall be on your heart. You shall teach them diligently to your children, and shall talk of them when you sit in your house, and when you walk by the way, and when you lie down, and when you rise. You shall bind them as a sign on your hand, and they shall be as frontlets between your eyes. You shall write them on the doorposts of your house and on your gates. (Deuteronomy 6:5-9 ESV)

This happened because of a cultural shift in our nation. Dr. Paul Hiebert, while analyzing his Mennonite background, stated that one generation of the Mennonite people believed the Gospel, the next assumed the gospel, and the following generation denied the Gospel. When I read his statements, it made me think of the family. The first generation believed that it was their responsibility to teach their children, the next assumed the responsibility but passed to work off to someone else, and now the current generation is, in large part, denying their role in the process. Hard to believe? Check out some information that I gathered on the next generation of parents.

One of the most difficult challenges in family ministry is teaching parents that they are THE means of cultivating Christ into the lives of their children. When I sit down after a child has made a POF, I make sure I tell the parents about their Biblical responsibility to their children. Why? Because I want them to take ownership of their parental role. They have lost their identity as it pertains to their role in discipling their children. But this isn't solely their fault.
2. The "church" redefined a pastor as a minister/director.
"In today's culture, typically, churches hire a pastor to do ministry. Biblically, pastors train people to do ministry. The Lord personally gives His church pastors-teachers to prepare His people for ministry so that the body of Christ is unified and healthy" – Eric Geiger

The majority of churches have created this perspective that their pastors are the one that do the ministry. If you are a preschool director, you focus on preschool aged kids. If you are children's minister/director, your focus should be on children. If you are youth pastor/director, your focus should be on the youth. The problem is that this isn't biblical. Ministering to these individual groups should not be delegated to a paid staff member because doing so will create a silo where only professionals can do that kind of work. According to scripture, the church (the saints) are to be trained and doing the work of the ministry.

And he gave the apostles, the prophets, the evangelists, the shepherds and teachers, to equip the saints for the work of ministry, for building up the body of Christ, (Ephesians 4:11-12 ESV)

This has become an issue for family ministry because parents have grown accustomed to bring their children to church to learn "good morals." The problem is that we know that the real learning takes place in the home, not the church. We have to better teach parents that God has placed us in the capacity that we serve not only to teach their children, but also to equip and train them, the parents, to do the hard work of the ministry within their homes.
3. Life is confusing and sometimes so is the church.
It can be easy to become consumed by what you do within the context of the church. If you are in a traditional family ministry, you have multiple services a week: Sunday School, Children's Church, Sunday Night, and Wednesday. To you, it's no big deal switching hats in-between services but think about the parents. Now think about the fact that, typically, at every one of those times the children are being taught something new.

In addition, every time a parent picks up their child they are given a stack of things to be completed. We have equated quantity with quality. You need to clarify your focus because parents and kids are already weighed down by the amount of stuff they have been given in life.
When they are already struggling with homework to help with, bills to pay, hectic schedules, and hungry kids, parents are not going to put forth the mental energy of wading through the plethora of "requirements" that the church has given them. We have to do better at clarifying the vision and focusing our efforts.
So, how do we fix these family ministry challenges? Well, here are a few solutions that I have come up with:
Teach parents that they are THE means of cultivating Christ into the lives of their children.
Parents must begin to take ownership of their parental responsibility.
Develop a method of teaching unique to your environment.
Clarify the vision and focus your efforts.
So, what are some the challenges that you see in family ministry? What solutions can you identify that will better help shape the up-and-coming generation?