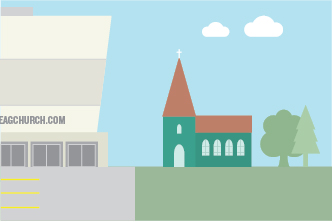 Recently, I was asked about the different challenges we face in KidsLife, the children's ministry at Lakewood Church. We currently have over 4,000 children check in to our ministry each week. With that many kids, there are bound to be lots of challenges to share.
Before coming to Lakewood I was the children's pastor of a church with about 250 children. A lot of the challenges I faced in that setting are similar to the ones we face today at Lakewood; they're just on different levels. Children's ministries always need more goldfish crackers, more crafts, more duct tape, and more volunteers. These two children's ministries were more similar than you might think.
Scientists have actually determined that as a species, humans are 99.9 percent alike. Some might disagree. They say that there is only .01 percent of our DNA that makes us different. I think the same can be said of children's ministries. Regardless of the size of church or ministry, we will usually face about 99.9 percent of the same challenges.
Volunteers
One of the challenges that we face is recruiting enough volunteers … yes, we all could use a few more volunteers! Even though we have great opportunities for volunteers to serve, we don't accept just anyone. We're looking for passion! One of the questions we ask a potential volunteer is: "What are you passionate about?" We've discovered if we can place a volunteer in a position that harnesses their passion and strength, it will fuel them to higher levels of commitment and fulfillment. By asking this question we are even able to expand the number of opportunities that are available for someone to serve. We currently offer 30 different opportunities for volunteers to serve within KidsLife. If we come across a potential volunteer with a unique passion and gifting, we'll create a position, because our goal is to place people based on their strength and passion.
Currently, we have 1,013 volunteers who serve within KidsLife each week. That number may seem a little overwhelming to you. Keep this in mind, though; it's the equivalent of having 100 kids in your ministry with 25 volunteers serving.
With the need we have for volunteers we never come to the place where we have enough. This year we have a God-sized goal for volunteers—to have so many volunteers in Kidslife that we have to start waiting lists for people who want an opportunity to serve. Because of this goal, we never stop recruiting. We actually have three different recruiting/information stations around our church just for KidsLife. Connection Teams man these areas and help families get more information about the ministry. We've come to realize that there are a large number of people in our congregation who are just waiting to be asked to join a ministry team. Because of this, we are constantly looking for different ways and places to ask our members to join this cause. We have decided to be proactive and not wait on a bulletin ad or our pastor to make a pitch from the pulpit. We try to be as visible as possible, letting people know about the awesome opportunities that are waiting for them in our children's ministry.
One of the greatest things about our children's ministry is that it's one of the only areas in the church where the entire family can serve together. We know that if we can find a place for every member of a given family they will be more likely to serve as a family. A great example of this is our Kidslife Security team. Many dads want to serve but not necessarily in a classroom. Because of this we created a security team, made up primarily of men, who walk through our children's areas before, during and after services making sure our kids are safe and secure. Hey … if you give a guy a jersey and a radio with an earpiece, they are one step away from being a Navy Seal … at least in their minds. They do such a great job!
Communication
Another challenge we face is effectively communicating with our families. We are continually looking for new and innovative ways to connect with the families that attend. We decided to evaluate this area and see just how effective we were at communicating to our church family. For one month we did a big push to get our kids to sit down with their parents and go over their take-home packet. It would probably take about three minutes or so to do this. We simply asked the kids to get their parents to sign the back and bring it with them the following week to church. If the kids were willing to do this they would get an amazing reward. To our surprise, most of the take-home packets were ending up on the floors of all the minivans and SUVs of Houston. One weekend we gave out over 2000 elementary take-home packets and the following week we received a whopping five in return. Yep, 5! After getting these kinds of results for the next three weeks, any ideas on what we did? You guessed it! No more take-home packets. We haven't done take-home packets since. Instead, we began to pray and ask God for wisdom and direction so that we could effectively communicate with our families. Boy, did He come through with an amazing God idea.
One unique thing about Lakewood is that we only own approximately 30 parking spots. We lease corporate parking spots during our services. So, we realized that every week we have a captive audience that isn't going anywhere fast. It will typically take about 15 minutes or so for families to get out of the parking garages that surround the church. So, the God idea was to take advantage of this captive audience. We began doing a monthly drive time CD that was fun and interactive for the whole family. There are lots of sound effects and we answer the question, "What did my kids learn in church today?" We also give them information about upcoming events and let them jam to some new KidsLife music. It's all done and wrapped up in about 15 minutes and we're getting great feedback from families. Oh, and we're also spending a fraction of the money and saving a few trees while learning how our families like to communicate. That was a God idea!
Leadership Development
Developing leaders at every level is a challenge that we face regularly. For us, we have developed something called the KidsLife Leadership Pathway for our volunteer leaders. This series of training classes takes our volunteers on a journey that helps to develop the gifts and talents that are within them already. We want to identify those strengths, help to develop them, and then give them the opportunity to be successful in ministry. With God's help we are seeing our leadership structure continue to grow and develop as the church grows.
A little over five years ago, we realized that we needed to begin developing the leadership giftings within children. So, we launched something called JLIFE (Junior Leaders In Full Excellence). This is our Jr. Leadership program for 3rd – 6th graders. It's a 10-month program that helps kids grow and develop the leadership potential that is within each of them. We also have several events for parents, as well, so they can reinforce what they are being taught in the program at home. By the end of the program there is literally nothing these kids can't do. They're learning how to lead and how to serve in our church. They become great role models to their peers, as well as to their families. JLIFE has helped us establish leadership development at every level.
Special Needs
A few years ago, we realized that we had a great ministry for "normal" kids but didn't have the same level for children with special needs. We intentionally took an entire year to evaluate and plan out a new type of ministry called Champion's Club. Champion's Club is an amazing place where special needs kids are developed emotionally, physically, and spiritually.
Once we opened the doors for Champion's Club, we had no idea the number of families it would impact. There were so many families that hadn't been able to come to church because of their children's needs. They had become shut-in families and were watching church online.
Since beginning our Champion's Club we currently have close to 200 children with special needs who attend our services. With a 1:1 ratio of teachers and students these kids are being developed mind, body, and spirit. While this happens in Champion's Club, families' hopes are being restored and their spirits are being refreshed. With God's help we have begun to expand Champion's Clubs into other churches around the world. We currently have 15 churches that have either launched or are in the process of developing a Champion's Club.
In ministry you will always face challenges. Here are three things to remember that can help you successfully overcome your challenges.
1. Pray. God always has the answer to any challenge you face.
2. Change perspectives. Every challenge has a solution; become a solutioneer!
3. It's a process. You are on a journey. Embrace the challenges and enjoy the journey.
Regardless of where God has you ministering to children and families, you can identify with one if not all of the challenges I've mentioned. Whether you have five kids or 5,000, we all have similar challenges. Remember, you're not alone. And besides … the worst thing that could happen is you could run out of Goldfish crackers.
Clayton Hurst loves Jesus, his wife, his daughters, and his team! Oh and Starbucks! He's also the Kids and Family Pastor at Lakewood Church in Houston, TX. @claytonhurst