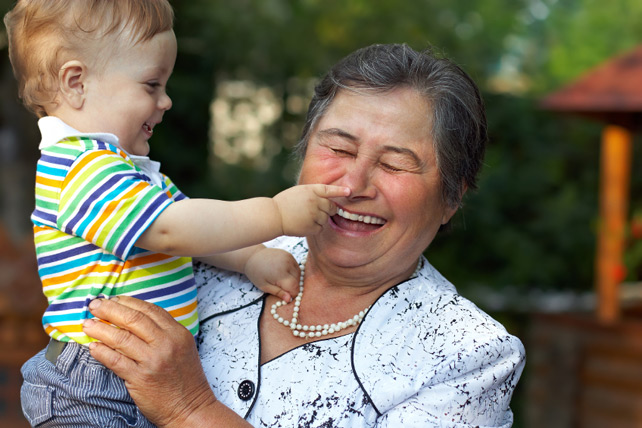 Children's pastors tend to shy away from asking senior citizens to be involved in children's ministry. Where does that come from? Assumptions maybe. Or it may be that we fail to understand what's really going on in the life of a senior citizen. I've been guilty of writing off the option of inviting senior citizens onto the kidmin team, but now that I'm much more "in tune" with that age group, I've come to realize that children's ministry is missing out big time by not embracing what this age group has to offer. And senior citizens are missing out by not investing their time, energy and resources in kids.
Senior citizens have amazing faith stories to tell. Kids love stories, especially of a time they're not familiar with—whether that is far into the future or pulling back the curtains to reveal the past. Just like the stories of faithful men and women we learn about in the Bible, God's story doesn't stop at Revelation 22:21, but continues in the stories of faithful men and women who have walked with God the past 75 years. Kids will be intrigued and can greatly benefit from hearing their stories.


Seeing children actively engaging in their faith gives senior citizens HOPE. Kids benefit from having older people in their lives, but it works the other way, also. Many seniors have invested years and years of their lives in the church, only to feel the disappointment and experience the depression that comes with living in "the way it used to be." The sounds that accompany children in the building give them hope that their work will continue. And, we all know that hope is powerful!


Seniors don't HAVE to be grumpy. Seniors get the rap for being grumpy, and that's only because they often are! Frustration comes from not being as strong as they used to be, not having a purpose anymore, aches and pains that they're not used to, requiring more rest, and moving more slowly than they did in their youth … and, truth be told, those things tend to make people grumpy! You too will get there. But that doesn't mean that you take seniors out of the game. Be mindful of the changes they are experiencing and adjust what you ask them to do. You no longer assign them to set-up and take-down, standing on their feet for hours, or playing in the middle of a wild game of blindfold tag. It doesn't mean that they can't listen to kids recite the scriptures they're memorizing, or read stories, or cuddle babies, or lead a craft, or …



Seniors

NEED to be asked. The 40-year position with a company is now over. Being president of the PTA is a memory. Many of the things that gave them a sense of belonging are done. Whether they actually say it or not, the question is, "Now, what do I do?" Because they struggle with their purpose in life, the individual ask builds their self-esteem and makes them feel wanted and needed. They will say "yes", but you've got to ask!


Seniors can make your life much easier. They have talents and connections that are a great resource for children's ministry. After being in a community for several generations, you know your way around and you know a lot of people. I've often been amazed that I was able to obtain some strange resource, only because one of the seniors knew someone, who knew someone, who knew someone, who had exactly what I was looking for. There was even a time when I was able to get a World War II mint condition Jeep for a VBS. Once you ask a senior to help on one project and they've felt the rewards of contributing, (not to mention the hugs and giggles the kids spill all over them), they will feel connected to kidmin. That connection moves them to become a voice that influences leadership and gets things done. They have clout. When a respected senior speaks, everyone listens … and that gets things moving and accomplished!



Very few seniors actually have detailed plans for their retirement. As I look around, experience is presently showing me that most seniors have time on their hands and spend a lot of it watching TV, especially those who are not accustomed to being self-motivators. They need something to do, so give it to them. And, in the process you will give them purpose, fulfillment, and ministry.
Let me challenge you to look at the senior citizens in your congregation with a fresh perspective, understanding that they are not the same people they were in their youth, but they still have so much to contribute. They can most certainly be involved in children's ministry and, in turn, the kids will be involved in ministry to seniors.