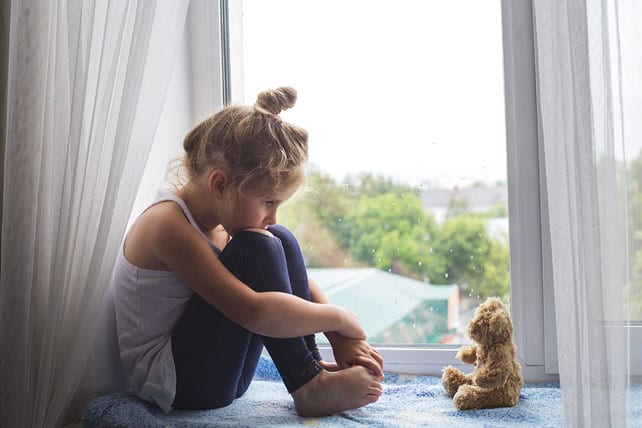 Children need help to deal with tragedy. Sometimes it's a global tragedy like a war or national disaster. Other times it's the personal loss of a loved one or the breaking up of a home. How should we respond to these things? Parents have the opportunity and responsibility to teach their children how to think about and react to these events, as well as, their inner feelings, and the confusion they may be experiencing.
Notice how, in Deuteronomy 6:6-9, God instructs his people to teach their children through life experiences. "These commandments that I give you today are to be upon your hearts. Impress them on your children. Talk about them when you sit at home, and when you walk along the road, when you lie down, and when you get up. Tie them as symbols on your hands, and bind them on your foreheads. Write them on the doorframes of your houses and on your gates."
Day to day life provides opportunities to teach children about God. It is the job of parents to frame the picture of world events, to help children understand life from God's point of view. Teachable moments become available in times of crisis. That doesn't mean that you preach or lecture. It means that you ask questions and carefully share information that can guide your children to right thinking.
So what do you say? How do you respond to their questions? How do you draw them out? What kinds of things can you do that will help your children during this time?
1) First, be sensitive to your child's emotions. All children are different and will process these events in different ways. Some will openly cry or make angry threats. Others will act out or become more aggressive. Some will become very quiet and withdrawn. Teens may become glib or sarcastic. Ask God to show you what emotions your child is experiencing. Below you will find some indicators, which may get you started with fear, anger, and sadness. 
2) Validate feelings. It's okay to experience emotions, but it's not okay to act those emotions out in hurtful ways. By validating a child's feelings you are "grieving with those who grieve" as the scripture commands. Be careful about criticizing your children's emotions. Thoroughly working through difficult experiences in a complete way will help your children fully deal with the events, and their emotions, and even grow through this experience.
3) Remember that trials provide opportunities to grow. Romans 5:3-5 says, "we know that suffering produces perseverance; perseverance, character; and character, hope. And hope does not disappoint us, because God has poured out his love into our hearts by the Holy Spirit, whom he has given us." The things you say and the way you teach your children in times of tragedy can help build character and develop hope. Furthermore, you can help your children grow spiritually during tough times and give them the spiritual tools to deal with life as they grow older. Take the time to talk about the events and talk about Godly responses.