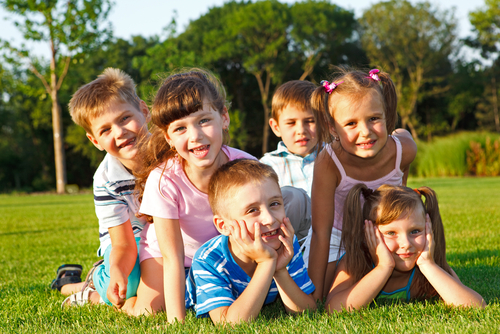 by Autumn Ward
We all agree that preschoolers are learning new bits of information every day. Most of them will walk into your classroom with no problem, but that would not have been possible just two or three years ago. No, that's when they were learning to hold their heads up, lift their feet to hold them, roll over, push up, rock, crawl, pull up and finally, taking that first step. Walking is more than taking one big step. It's the culmination of learning a lot of much smaller steps.
The same is true with preschool Small Groups. Sitting together and talking about the Bible story, applying it to our lives, praying together, celebrating one another—that's the big step we want to take. But first we must experience several much smaller steps.
Step 1: Train your threes to go to the same area with the same people for Small Group time.
Your new three-year-olds were in a twos class just last Sunday. Participating in a Small Group is something they have to learn how to do. Begin by simply helping them identify where to go and teaching them the names of their new Small Group Leader and friends.
Use colors, animals, shapes, anything the children can recognize, to make it easy for your children to spot your Small Group area in the classroom. (The threes classroom where I serve at my church has four Small Groups. My group is the "orange" group so my basket, journal and pen are all orange.)
Place a color dot on each child's nametag with a marker so you can easily identify which leader they go with. (The names of the children in my group have their names printed in orange since we are the orange group. This really helps me know which children are mine at the beginning of the year and as new children are added to my group throughout the year. The children learn to recognize the color nametags as well.)
Be consistent with your place in the room, time you meet, leader, friends and symbol. (My group always meets in the left corner by the door right after the Bible story. Same leader. Same children. Same color. Every Sunday.)
Give each child a small paper cup filled with a snack to eat as they sit down in their Small Group. (We give a squirt of hand sanitizer before Small Group and hand out small paper cups of Goldfish. This really help the children go to their spots at the beginning of the year.)
Call out each child's name and pray together. (I am horrible with names. Saying my children's names each Sunday helps them and me! I want us to know each other by name!)
Pray together. Go around the circle and thank God for each child by name. Do this every Sunday. Once you feel your group has their routine down, it's time to take another step.
Step 2: Add saying the memory verse together.
Congratulations! Your Small Sroup is meeting in the same spot, at the same time, with the same leader and same friends. Are you ready to get on your knees and start rocking a bit?
Before you pray together, practice saying your memory verse with motions, as a group.
End with prayer. Ask your children if anyone wants to pray before you lead the group in a prayer. Thank God for each child by name.
Once you feel comfortable with saying the memory verse and praying, it's time to crawl on to some application conversation.