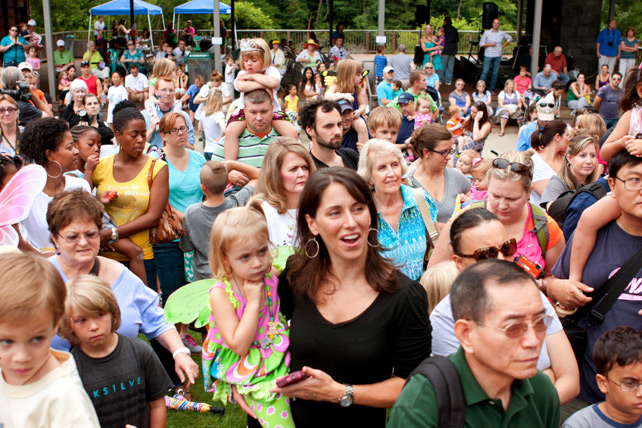 Last week my son's school wanted to raise some extra money for the library. They planned a fundraiser with our local bookstore. On a designated night, a percentage of sales from the bookstore would go to the school's library. Simple enough. Now all they needed were parents to show up. That's when they displayed their genius…
What was this earth-shattering idea that you can steal this week and capture the attention of parents in your ministry?
They had the kids perform.
That's it.
PARENTS WILL ALWAYS SHOW UP TO SEE THEIR KID PERFORM.
Think about the power of that for just one second. If the school had sent home a flyer asking parents to come and buy a book, you would have heard crickets in that bookstore that night. But because my kid was singing "Rudolph the Red-Nosed Reindeer" and "We Wish You a Merry Christmas," my whole family showed up. We bought each of my boys a book while we were there. Most of the families there did the same thing, and the library raised a lot of money that night.
Do you want parents to show up to your ministry on a certain night? Do you want them foaming at the mouth and holding up their camera phones like a pack of paparazzi? Ask their kid to perform.
And when they show up and you have their attention, then you have an opportunity to minister to them.
HERE ARE TWO THINGS YOU CAN DO FOR PARENTS WHEN YOU HAVE THEIR ATTENTION:
1) Inspire Them. Take a few minutes to share with parents how they can connect with their student spiritually.
2) Inform Them. Every time you have the attention of the parents in your ministry, share important information.
Give them more than the date for the next retreat. Give them a tool in their tool belt for passing down faith. Here's an example of what you can say:
"Thanks so much for coming tonight. Before you go, I'd like to give you one thing to remember. There are times when your student is going to be heartbroken or depressed. I wanted to give you a verse you can share with them that is simple and encouraging. I'd love for you to write down Psalm 34:18. It says, 'The Lord is near to the broken-hearted.' Keep that verse handy for those times when your student needs spiritual encouragement. Thanks again for coming tonight, and have a safe trip home!"
Simple. Easy to remember. Something they can use in their home.
If all they got was that one truth to pass to their student in a time of need, then the night was worth it.
SO, HOW CAN YOU ADJUST AN EVENT ON YOUR CALENDAR TO INCLUDE PARENTS? HOW CAN YOU HAVE STUDENTS PERFORM TO ENTICE PARENTS TO SHOW UP?
I'd love to hear your thoughts!