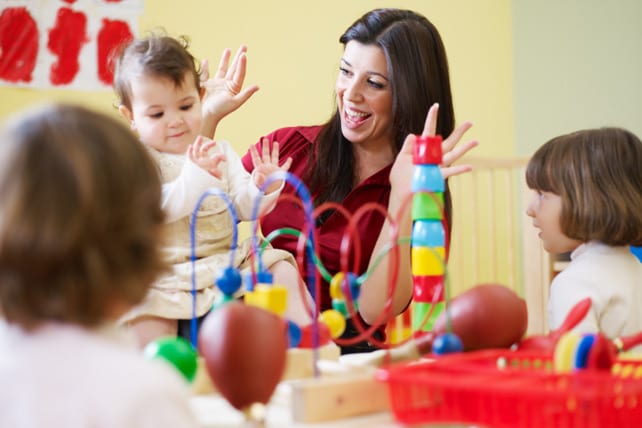 Recently, I picked up a copy of The Emergency Teacher. The author of the book, Christina Asquith, was lured out of the world of journalism and into the world of teaching through a "Make a Difference" poster hanging in a subway train.  She headed into one of the worst schools in Philadelphia with high hopes and no experience.  Two months into her undertaking, Christina was exhausted, broke and disillusioned with the educational system.  She had hoped to impart wisdom and knowledge to her students, but she was barely keeping her head above water.   She wanted to connect with the kids in an impactful way.  Instead, she spent all her time wrangling kids back into their desks and trying to stop behavior problems from spiraling out of control.
Perhaps your experience in Children's Ministry has a similar theme. You are excited about Jesus and want to share the good news of Scripture with the young impressionable minds at church. You sign up to teach Sunday school and fall asleep on Saturday night with high hopes and a happy heart.  On Sunday morning, you stroll into your classroom, armed with goldfish, curriculum papers, glitter and glue, determined to make a difference in the lives of the kids on the class roster. For the first few weeks, everything goes great.  Your emotions soar and you begin bragging about what a great classroom you have at the coffee booth in the lobby.  Then, one week, the kids in your class start chattering a little more than normal and engaging in the lesson a little less than usual.  Before you know what has happened, you're starting to do more behavior management and a little less teaching. The dream of sharing the exciting stories of the Bible seems out of reach. You keep at it a few more weeks, but finally decide you're not cut out for Children's Ministry after all.
In many ways, teaching in the church is not like teaching in a school. Your authority is limited.  Your consequences are limited.  There is no principal. There is no detention. There is no mandatory attendance. Kids are required to attend school.  At church, we want to maintain control in the classroom, but we also want to have fun so kids will keep coming back (and invite their friends!).  In school, a class roster will fluctuate by perhaps two or three children during the course of the year.  In your Sunday school class, you could have three kids one week and then nine kids the next, with three totally new faces in the mix. Or perhaps you teach Children's Church with kids with ages ranging from 4 to 9 and you have to find activities that will engage them all! It's a tall order, I know.
In his book, The First Days of School, Henry Wong explains:
"What you do on the first days of schools will determine your success or failure for the rest of the school year. Knowing how to structure a successful first day of school will set the stage for an effective classroom and a successful school year".
How does this advice translate for Sunday school teachers?  Do we have an official "first day of school"?  What if you're only planning on teaching for one year—did you already miss your chance to have a successful year?
What about the additional obstacle of rotating teachers?  You might wonder, "Will the procedures I work so hard to establish in September be maintained in October when a new teacher takes over the class?"
What Is Classroom Management?
According to Wikepedia, classroom management is a term used by teachers to describe the process of ensuring that classroom lessons run smoothly despite disruptive behavior by students.  The term also implies the prevention of disruptive behavior.
To put it simply, classroom management is creating and maintaining order in the classroom so that all students may engage and learn a meaningful way.
Creating and maintaining order is possibly the most difficult aspect of teaching for many teachers. In fact, experiencing problems with classroom management causes many teachers to leave the classroom altogether.
Indeed, the most frequent complaint that I get from Sunday School teachers and small group leaders alike is "The kids are crazy!  I can't get anything done!"
Fighting to gain control during your entire class session is both exhausting and discouraging and it certainly distracts us from the real goal of Children's Ministry, which is creating disciples for Christ.   Keeping kids quiet during class is not the goal.  Making world-changers for God is the goal.
However, no discipleship can happen if kids can't even hear your voice.
Effective classroom management will not only allow you to share the exciting truths of God's word, it will also create an environment where kids can hear and respond to the Holy Spirit.  It will take a little time and a whole lot of practice, but you can do this!  Invest in your classroom and you will be amazed at the harvest God will produce through your efforts.
Five Keys
Running a successful classroom can be overwhelming and intimidating.  Sometimes it's hard to know where to begin and what methods to implement first.  Perhaps, it seems that the more you read, the more you realize there are so many more things you COULD be doing.  It's easy to get discouraged and throw in the towel before you even begin.  Remember, teaching and classroom management are a process.  Good teachers are always improving and learning along the way.   As Dory in Finding Nemo reminds us, sometimes you have to "Just Keep Swimming".  Here are the five key things that I've found most helpful in my classroom experience.   Pick one thing to work on this month and once it you have mastered that technique, implement something new the next month.  You don't have to magically fix all your problems overnight.  Slow and steady change will lead to lasting change.
#1 Never Leave Your Classroom Unattended
This is one area I really struggled with when I first started teaching Children's Church. I would get about halfway through the lesson and realize we needed CRAYONS for our next activity! I would randomly assign one child as "in charge" and then rush to my office for some waxy color sticks.  By the time I got back, another kid would be crawling on the table and I would have to listen to at least three tattles before I could resume teaching. My train of thought was broken, and the students certainly were less focused.  In order to prevent this, not only did I start making a list of supplies I needed as I lesson prepped, I also started keeping a stash of essential supplies in the classroom.  Because all of our classrooms are multi-purpose rooms, I can't keep a lot of things in the class, but crayons, glue, construction paper and scissors are certainly on the list.
#2 Do Not Create a Teacher's Pet
Ah, the teacher's pet. That student who is ultra helpful, ultra good, and a constant source of affirmation to our souls! When first getting started in the classroom, it's hard not to gravitate to that student—calling on her every time she raises her hand, making an exception for him if he needs to get a drink, or choosing to ignore behavior that you might not tolerate in others. Not only does this set up the teacher's pet to become prideful and snobby to her classmates, it also disrupts the class community. As you teach and assign jobs, try to mix things up so everyone has a chance to help and really shine. Using Popsicle sticks or note cards with student's names written on them is a great way to keep things random and even (check out this article from Coffee, Kids, and Compulsive Lists for full instructions).
#3 Organize Your Classroom to Create Order
One of our Wednesday night small group leaders had quite a handful of kids to manage each week.  The four or five kindergarten boys would find any and every excuse to get up and run around the classroom.  In order to corral their movement and their energy, Miss Jen would flip three tables onto their sides and create a fort for the boys.  Not only did the kids find this totally fun, the structure also kept them seated and together as a group.  Miss Jen, an elementary teacher by trade, knew the power of classroom arrangement and used it to her benefit.
Likewise, take a look at your classroom this Sunday.  Identify any corners that might lend themselves to side chatter.  Think about the things that you are consistently correcting the kids about and redesign the room accordingly.  Are the kids always tipping chairs backwards?  Take the chairs out of the room or place them all against a wall. If you have trouble with kids touching or playing with all the supplies, make sure they are not somewhere the kids have to walk by in order to get to their seats. For our Wednesday night club, we meet in the church gym.  For a few weeks, we coned off the designated seating area in order to keep the kids close and corralled.  You get the idea.
#4 Expect To Be Tested by the Students
Kids will test any new rule that you introduce into the classroom.  You will have to stand firm for a time, but kids will quickly learn and adapt to expectations. Decide ahead of time about the consequences you will need to enforce and how you will reprimand a child during class. Think of a way that keeps you and the child on the same team and creates an easy path for them to re-enter the class in a productive way. Setting yourself up as an enemy to the kids will not help anyone.  While you should not tolerate inappropriate behavior, you should also not take it personally.  Be prepared to be tested and have a game plan mapped out in order to keep things calm and smooth when testing does occur.
Recently, I browsed through the book, 1,2,3 Magic for Teachers written by Thomas W. Phelan PhD and Sarah Jane Schonour. While I don't agree with most of the things in the book, the idea that no discipline will be effective unless the adult is emotion-free rings true. In order to really maintain control in your classroom, you first need to maintain control of your own emotions. Getting angry and frustrated with kids will not produce long-term results. Firm boundaries and no-negotiation consequences are key to good classroom management.
#5 Be Prepared
You cannot expect to maintain control in your classroom if your eyes are glued to your lesson book.  I'm sure you have experience the vast difference a little preparation does to both the classroom experience and your level of comfort in teaching. Take time to prepare, practice and gather supplies ahead of time.  This will help you tremendously in creating the type of classroom you want. If you need a little improvement in this area, I would recommend taking a look at the book,The Fabulous Reinvention of Sunday School: Transformational Techniques for Reaching and Teaching Kids
 or you can find a 
preparation checklist in this post.
WHAT ABOUT YOU?
How do you maintain or create order in the classroom?