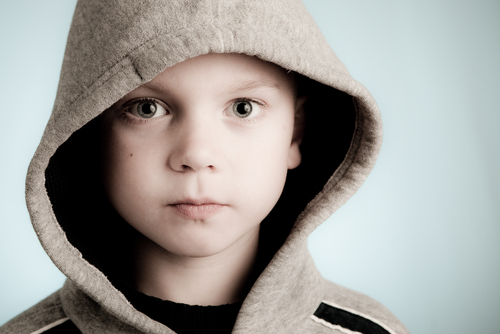 Recently, a friend took a small group of preschoolers and volunteers to a local indoor pool for a day of fun. Everyone had a blast–except for the 3 year-old boy who frantically paced the ledge of the pool, screaming obscenities, and flipping off anyone who approached him. The boy, red-faced and frenzied, was finally restrained and calmed, but not one of the adults present had a clue about what had just happened–or why.
After the incident, my friend discovered that the boy's mother was addicted to methamphetamine. The boy's home life included neglect, drugs, and rampant sexual abuse–not only from his mother, but also from the string of boyfriends and house­guests who frequented their home.
If you minister to more than five children, odds are that at least one of those kids is considered "at-risk." Regardless of how large or small your children's ministry, it's likely that a child facing significant challenges is in your ministry or will be soon. As teachers with limited time to connect with children each week, it's our challenge to transform limited-quantity time into high-quality ministry.
In 2000, more than 500,000 kids were in foster care due to repeated abuse, and neglect, parents' drug use, and other problems. Today, that number is growing exponentially with the epidemic of methamphetamine use spreading and fracturing families. Millions of children today are considered at risk. Statistics tell us a lot about the issues kids face, and they're helpful when we need a grim shot of reality. But the truth is no statistic can ever quantify a child's heartbreak. At-risk children often come with a loaded knapsack of barriers they face daily, ranging from habitual neglect to drug addiction, to social problems, and more. As an influential adult demonstrating God's love to children, it's important to know some basic keys for relating to at-risk kids and how you can maximize your time with them.
What Is "At-Risk"?
The short answer to this question is a child who's vulnerable to life-impacting social, psychological, and educational problems. This includes–but isn't limited to–children who've experienced repeated abuse and neglect. At-risk children typically live in high-risk family environments that may include drug and alcohol dependence, don't have stable homes either emotionally or physically, and don't experience healthy, nurturing relationships with adults or peers. Kids at risk don't come only from low-income families–they come from all backgrounds and socioeconomic levels.
How Will I Know?
Children at risk gain our attention for a variety of reasons. Here are the most common.
Atypical Behavior. An at-risk child habitually displays atypical behavior, ranging from angry, disruptive, hateful, and violent to withdrawn, sad, reticent, and fearful. A child may constantly seek attention for any reason–whether appropriate or inappropriate. Some children at risk disappear; others act out. The key point is that the child's behavior is atypical over an extended period of time. If a child consistently displays disturbing or abnormal behavior, pay attention. Talk with the parents, talk with the child, and dig deeper to find the root of the behavior.
Known History. Jill was diagnosed with fetal alcohol syndrome at birth, and later with attention deficit disorder, attachment disorder, and mental issues. Jill's uncle adopted her when her mother was deemed unfit, but his own drug use, addiction to sex, and transient lifestyle denied her any kind of stability or values system. By age 6, she'd been kicked out of every school she attended because she attacked other children. Her history was well known in her small town, and her uncle willingly talked about her challenges. You may already be aware of a child like Jill when he or she enters your ministry.
Notification. You may be notified that a child in your ministry is in foster care or living with relatives due to domestic issues. There are legal and confidentiality issues related to these children, so check with your pastor or ministry leader if this is your situation.