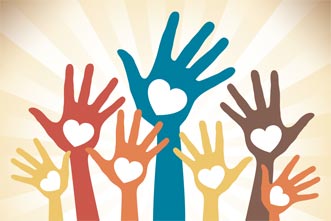 Volunteering in children's ministry at Browns Bridge Community Church has been a great experience for me. I had forgotten what it was like for the leader who has a life outside of the church building to serve each week and implement curriculum. I have a feeling, I'm not alone. Church leaders can get caught up in the work of church that they forget what volunteers experience. This on-going series is a look at what I'm learning as a children's ministry volunteer.
Teams who hang together stay together.
One of the best parts of volunteering in kidmin is the team I get to work with. The children's ministry staff has collected the best hosts, storytellers, and worship leaders around. They al bring their personalities and best to those kids each week. Not only are they great at what they do, but they're just great people. I've really enjoyed getting to know them over the past several months. I truly feel part of a team; something that is important for every volunteer.
Team building doesn't happen overnight, and it can't happen at sporadic events throughout the year. Events are important, but even more so is the space you create for your volunteers to hang out during the normal Sunday rhythm. Here are five steps to get you started:
Create a physical space that's only for volunteers.
Find a room, a storage closet, even a hall way or a coffee cart and deem it "volunteers only." Decorate that space in a way that cast vision for what you do: posters with big ideas, one-word job descriptions, or silly party decorations. And make sure there's food and plenty of coffee and other caffeinated beverages to keep your volunteers energized.

Have your teams arrive super early.
I have to come at least a half-hour to 45 minutes early to prepare, check mics, and have a production team meeting before the environment is officially open for kids to arrive. This seems like it's a lot to ask of a volunteer, but having plenty of time to run lines and get myself prepared makes the hour less rushed. I walk in knowing that I have margin to do what I need to do.

Be on time and get the business out of the way first.
Schedule production meetings right away, start on time, and stick to the schedule. If the first things are delayed, the rest will fall behind as well. Once the business is complete, volunteers will have time to run lines, go over last minute changes, or learn those new motions to the worship songs. They will also have time to hang out.

Give breathing room for teams to hang out.
One of the most fun part of serving is getting to hang out with great people. When you allow space in your schedule for hang-time, you are not only team-building, more importantly, you are creating community: people who laugh together, share life together, and pray for each other. They won't necessarily become best friends, but they'll at least know that someone else is in their corner cheering them on as they serve kids together.

Check in and debrief together.
After service, swing by each of your volunteer teams and debrief how everything went. Keep this light and conversational. When you do this during down time, it's part of conversation rather than a formal email during the week. Ask for feedback in return, your volunteers make your ideas happen each week. Most of them will offer great suggestions for how you can take your ministry further. When you listen to your volunteers, they'll feel like they're important and part of the team.
How about you? What are some of your best Sunday-morning team building ideas? Share them below!