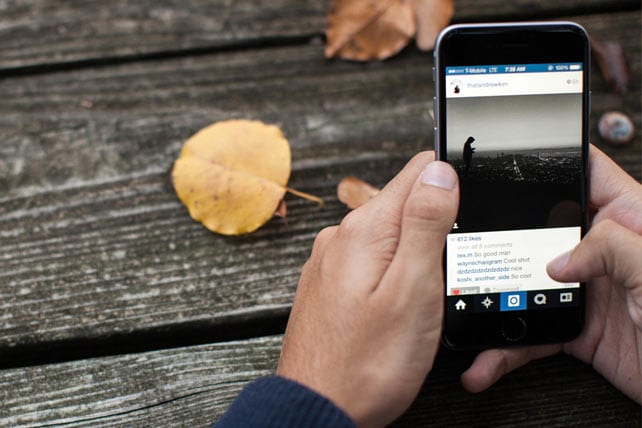 Social media, including church social media, touches all aspects of our lives, from work, to school, to religious institutions. Social networking sites, on-the-spot communication devices, email  — these all work together to enhance communication, foster faith sharing, and deepen relationships.
Is social media important for churches?
Yes!
Social Media allows the human side of an organization to shine. A church is not about the brick and mortar. The pastor is a real person just like everyone else; he has struggles, triumphs, and questions just as we all do. Using social media allows the pastor and staff to connect with their members and build relationships. Other ministries outside your organization also get to experience the personal side of the church, and that can attract new members.
We noticed this powerful effect through our own company postings on social media and our blog. The biggest responses came from personal things like pictures of our first snowfall in the Upper Midwest, a picture of chocolates from a partner, and our team at the company holiday party. Although many of our blogs discuss important aspects of church software and include pictures, the response rate is lower. Why? The blogs are viewed as information to consume; people learn from them and move on. People are more likely to respond to a personal story about Icon Systems and its employees.
Social media can also be very useful at a more administrative level. Facebook, Twitter, Google+ and other social media platforms are great ways for churches to communicate with members, organize events, and attract new visitors.
Although social media is convenient and fun, it can have drawbacks. Following some basic rules can help keep social media safe and enjoyable for all.
Disclaimer: the following list provides a few guidelines for healthy boundaries and safety of the church in the virtual world of networking and communication. Every organization should develop their own policy to fit the unique needs of the church.
Treat everything you share on social media like it's public
All communication sent digitally (email, social networking sites, notes or posts) is not confidential. It's so easy for someone to take a screenshot of a conversation or post and share it publicly with others.
All transcripts of online chats, blogs, and videos should be saved when possible.
Use private groups where needed
Adults who minister to youth and who want to connect via a social networking website can set up a private group account for the youth and their families. That way, events and activities can be discussed openly and everyone can stay informed.
Be mindful of your audience
All clergy and adults who work with youth should consider the content of any post that could be read by youth. Your words are often considered the voice of the church.
Sometimes face-to-face conversations are more appropriate
Email or instant messaging is not appropriate for matters that are pastorally or legally sensitive, emotionally charged or require extensive conversation. If a message is longer than a couple of sentences, it might be better to talk in person.
In the world of social media, boundaries and safety practices must mirror the physical world. For example, a youth leader would not hold a conversation alone with a child, and should also not have a private chat on Facebook.
Be smart about what you say
As the saying goes, common sense isn't always common practice. The purpose of social media is to communicate with and inform your network, but make sure you do so tastefully and without revealing too much information. For instance, avoid advertising the location (or future location) of minors. It's safer not to post something like the following:
'The annual youth group lock-in will be at the local YMCA on Saturday night from 9 p.m. to 8 a.m. See you there!'
Make sure you have permission when posting prayer requests; some people may not want personal matters shared online. If you do get permission, keep in mind some situations are extremely sensitive and you don't need to share every little detail.
Don't post this: 'Please pray for Susan — she is driving out of state this weekend to care for her mother who is experiencing postoperative complications after her rhinoplasty.'
Post this instead: 'Please pray for Susan — she is traveling this weekend to visit her mother.'
Speaking of permission, verify the material isn't copyrighted when posting things that are not your own (e.g. professional directory photos, clip art, videos, articles). Share a link to a video instead of embedding it on the church's website or share a link to an article instead of copying and pasting it into a blog post. (Here's a post on sourcing free or low-cost photos.)
Post content that is relevant
You probably already refrain from posting offensive content, but also make sure your posts are relevant and meaningful to everyone visiting the site. For instance, referring to an inside joke can alienate those who don't know the story behind the humor.
Monitor social media accounts regularly
Assign church staff or volunteers to monitor posts and delete any inappropriate content. Giving more than one person access to the accounts is a smart idea; that way if your social media manager goes on vacation or leaves, the accounts will still be updated. As insurance, post a disclaimer. (Just do a Google search for 'Social Media Disclaimer' if you need some examples.) You can't control what others say, but most social media platforms allow you to block repeat offenders who continue to post offensive items.
Learn how to change security settings
Remember, social media pages can serve as a first impression to people outside of the church. Although content such as group discussions should be private, make sure some of the information is public so others can learn about the church and its mission. To use Facebook as an example, the church could have a public Fan Page with posts for everyone to see and also have a private group for members to share pictures, videos, and prayer requests. Read our post about Facebook to get instructions for creating a closed or secret group and other useful tips.
Using Social Media allows your organization to reach diverse members both within and outside your church, from college students to busy moms. Implementing guidelines for how your organization engages in Social Media will help ensure safety to your staff and members. Learn about additional steps you can take to ensure safety with background checks of staff and volunteers through IconCMO.
---
Find out more about IconCMO church software.