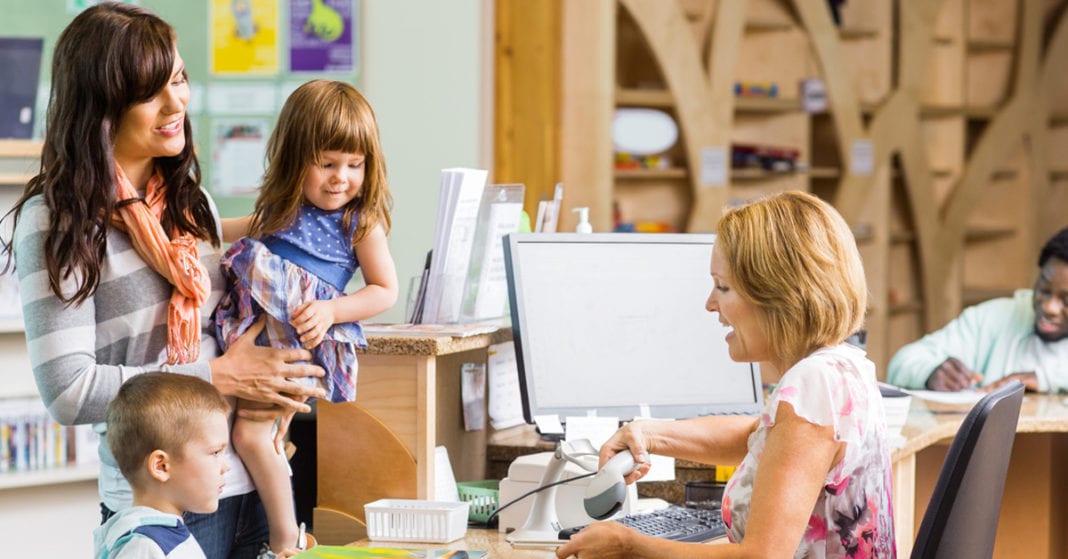 In a survey by Children's Ministry magazine, children's programs ranked third in families' decisions to attend a church, only marginally behind "the church's emphases" and the pastor's preaching, and 2/3 ranked the children's ministry as "very important" in their search for a church home.
So how do you make a strong first impression on parents? It starts outside the Sunday School room, with an electronic children's check-in system. The combination of [a] friendly registrar and fail-safe technology lets parents know that you're as serious as they are about both nurturing and protecting their children.
Choosing from all the check-in tools that are available can be overwhelming, but there are a few features that are especially helpful in setting parents at ease. Here's what to look for in your child check-in system:
Support for multiple check-in stations
No parent wants to miss the first few minutes of the service because of bottlenecked lines, or worse, stand in a sea of impatient kids like a playground climbing pole. Multiple stations allow for a more orderly and calm check-in, as well as personalized attention from an unhurried greeter.
Barcode or RFID scanners
It's true. For decades, we made do with handwritten sign-in sheets, or smiled and waved as teachers released our kids while we were still yards away. But no first-time parent is going to be reassured to see kids zooming out from the room in all directions. Even a system where kids and parents have labels with matching numbers requires a visual check to ensure safety — a check dependent on a teacher who's likely just starting to relax after a busy, noisy hour. You can skip the human error altogether with a simple swipe of a badge. This checkout makes a record of which guardian picked up the child and (for the church's protection) logs the precise time the child left the church's care.
Recognition of each child's needs
The best check-in systems make it easy for registrars to see any special needs a child has, from food allergies to care instructions to custody concerns. (Bonus points when this information gets reproduced on a class list that's available to teachers as soon as the lesson starts.) For example, this video from Seraphim Software gives you an idea of a clear display that puts the important facts front and center. Show parents how visible this is to the adults they're entrusting with their child, and it will provide added reassurance that their child's needs will be met.
Integration with church-wide systems
When your child check-in is working with your audiovisual display, it can be a powerful way to minister to parents. A ticker tape crawl at the bottom of your slide presentation can alert parents to a fussy baby or child who needs their attention — and minimizes peeks into the classroom by anxious parents.
A strong child check-in system can also be used as an outreach tool. With whatever contact info a parent provided, you can open a parent record in your church management software (ChMS) and follow up with the family after the service, asking for feedback and inviting them to learn more about the church. Keep in mind that, for the sake of time and families' privacy concerns, it's important not to require too much personal information at the child check-in station. Parents understand that a cell phone number will be important to reach them in an emergency, but may be less interested in providing a home address. Collect just enough data to be supportive, not invasive.
Portability
Sunday services aren't the only time you need a child check-in system. Invest in one that you can load on a laptop or tablet to record attendance at youth outings, field trips, and other special events.
Volunteer qualifications
Your software can even assist with the human element of your children's ministry. With an integrated child check-in and ChMS, you can build volunteer profiles that capture any qualifications you need. These can include background checks, ministry experience, CPR certification, personality assessments, completion of in-house training, even personal hobbies and interests. (Your next youth expedition might need an experienced hiker and climber, and someone who loves to bake may be willing to help with a fundraiser!) Ministry leaders can filter from a qualified and enthusiastic volunteer pool to help fill roles in teaching, assisting, and registering children.
ALSO: CAN TECHNOLOGY CALM THE STORM AROUND YOU?
With the right features, the safe check-in process to your children's ministry becomes a ministry all its own, demonstrating the kind of welcome that Christ himself gave to children. When we see children as the unique, precious creations they are and treat their parents' protective instincts with respect, not only will your congregation grow and thrive, but also so will the church at large.
According to Children's Ministry Online, nearly 85 percent of American conversions to Christ happens between the ages of 4 and 14. In true kingdom logic, the least shall be greatest, and our smallest interactions — taking just a few moments to greet a parent and usher their child into a classroom — hold eternal significance.