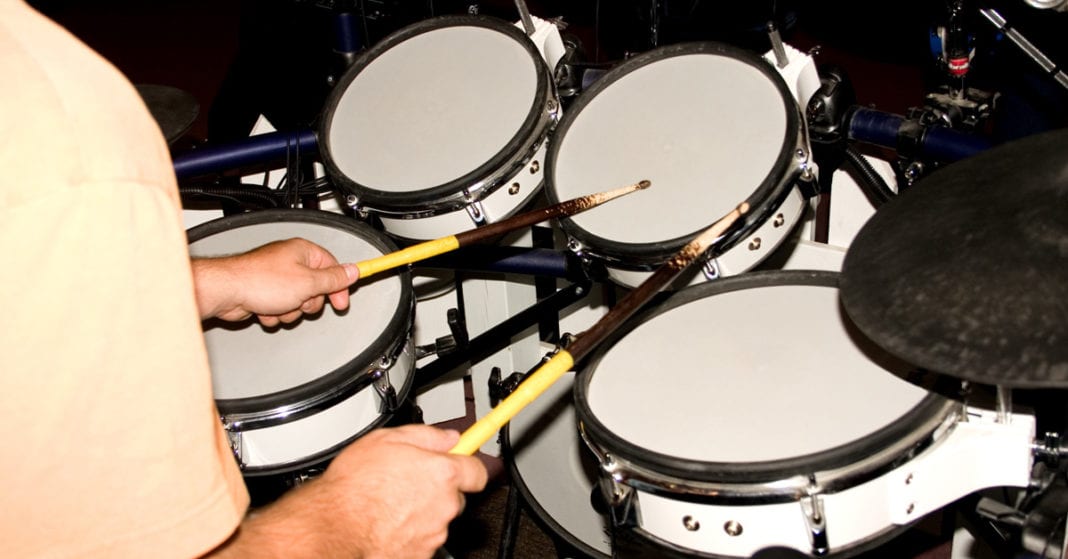 Here's a handpicked list the best new church tech for Small-to-Mid-Sized Houses of Worship. It's gear that will help spread the word while making services a whole lot easier.
No matter a church's size, having professional sound and lighting equipment is a must for delivering passionate services and performances. For over 40 years, Full Compass has built a valued relationship with churches of all sizes, and it remains our goal to provide the A/V technology you need to convey all the emotion that goes into each and every service. To help achieve that goal, we've assembled this list of five outstanding pieces of gear guaranteed to add new life to your services in 2019.
Sabian FRX Series Cymbals
Drum shields are a necessary component for nearly every worship band, but let's be honest — as an aesthetic piece, they're not exactly ideal. In an environment that's all about connection, one less structure between musicians and congregation would be a welcome change. Consisting of 14" hi-hats; 16", 17", and 18" crashes; and 20" and 21" rides, Sabian's FRX Series of frequency- reduced cymbals give drummers all the performance and definition they're used to from Sabian cymbals at a reduced volume for smaller rooms and stages. The secret is in their unique design, which eliminates mass in the cymbal to limit certain midrange and high frequencies. In addition to a 4dB drop over traditional cymbals, the small holes on FRX cymbals inhibit specific midrange and high frequencies, enhancing the listener's perception of lower volume. With FRX Series cymbals, worship drummers can truly take part in the performance without having to hold back. FRX cymbals also inhibit mic bleed, which means it may be time to open up that stage and send the drum shield to the storage closet.

Follow-Me Remote Follow Spot Control
When used properly, lighting effects can dramatically enhance the message behind any sermon and create a mood among your congregation that makes them more receptive. And you always want their eyes focused on the messenger, which is where the Follow-Me Remote Follow Spot Control system can really enhance your lighting system. It's a Mac based software solution for follow spots that [are] less expensive and easier to implement than truss-mounted follow spots.
Used and trusted by national touring acts including Jason Aldean, Shania Twain, and The Newsboys, the Follow-Me system is ideal for churches too, allowing your message to shine through wherever you move. Your existing fixtures incorporate seamlessly with the Follow Me system, allowing multiple fixtures to track multiple targets without jitter or jerky movements that distract from the speaker. Follow-Me offers several advantages over traditional follow spot usage like lower labor/installation costs, freedom in fixture positioning, improved follow-spot angles, and eliminating loss of seating. Follow-Me also offers accurate timing for color bump cues, following performers with gobo effects, or color chases, and it solves weight issues on smaller roofs where typical truss seats with operators are too heavy or deep to implement.
Klang Technologies 3D In-Ear Mixing
In-ear monitoring has become the standard on worship stages of every size, and even though there are still uses for floor wedges and other monitoring speakers, it's clear that in-ear monitoring is the wave of the future. With that in mind, Klang has brought to market an astounding new way to maximize the efficacy of in-ear monitors — 3D In-Ear Mixing — and with it the ability to present musicians with their perfect mix, without the stereo limitations of traditional monitoring. And best of all, Klang's 3D-Sound products work with your existing in-ear monitors! This innovative new system uses binaural technology to deliver a three-dimensional mix through your in-ear monitors. By allowing full control over each element of a mix, each musician in your band can have a sonically and spatially perfect mix. With hardware options for both large ensembles and smaller groups of five, there's a Klang 3D mixing system that's right for your services.
QSC KS212C 12" Powered Cardioid Subwoofer
Nothing rounds out a mix and fills the hall with sound like a subwoofer-equipped system. And with its cardioid deployment, the QSC KS212C is a powerful 12", 3600W addition to fill any small- to mid-sized room with rich, warm low frequencies without washing the stage in unwanted bass. Despite its massive output power, it's incredibly portable thanks to Class D amplification, with comfortable aluminum handles and four rear-mounted casters to place it where you want. The KS212C incorporates the latest DSP technology along with dual 12" long- excursion drivers, each arranged in a 6th order bandpass chamber. What's all that mean? Essentially, more output — 15dB more at the front of the cabinet — to cover the congregation, while sparing the folks on stage from the omnidirectional low-frequency rumble from a standard subwoofer. The KS212C is pole-mountable vertically or horizontally and includes a 26" speaker pole, giving you flexible placement options and the ability to incorporate it seamlessly into your existing system. With the addition of a KS212C, you can easily enhance your room with powerful bass and not worry that you'll muddy the mix for the performers onstage. It's a win for everyone.
Roland TD-50K-S Full Compass Exclusive Bundle
The TD-50K Electronic Drum Kit already offers Roland's flagship sounds along with plenty of flexibility and connectivity. And thanks to our partners at Roland, we are proud to offer the TD-50K in an exclusive bundle that gives drummers that outstanding V-Drums performance and sound in a two-up, two-down configuration — at no extra cost! This six-piece kit delivers everything in the TD-50K standard kit, along with an extra PD-100 Pad and BT-1 Bar Trigger — a $439 value! Roland V-Drums have become a regular sight on worship stages, and with their natural, acoustic-like feel and stellar Prismatic Sound Modeling, it's no surprise. The TD-50 sound module is loaded with high-quality sounds that capture every element of a drummer's performance and reproduce it with stunning sonic accuracy. Roland has enhanced the renowned V-Drums feel and response with a high-resolution multi-sensor digital snare drum and an 18" digital ride cymbal with improved expression and dynamics.
As much as we all love acoustic drums, even with attenuation accessories, they are still "loud," particularly as the room they're in gets smaller. V-Drums give drummers the feel they are used to without any acoustic sound, making it easier to dial in a great mix in a small space. Because of our partnership with Roland, we're able to offer this six-piece configuration at no extra cost — we recognized that there are plenty of drummers out there who wanted a two-up, two- down setup, and they worked with us to make it happen. This kit is a Full Compass exclusive, so if you're ready to move up to the professional-grade performance of Roland V-Drums, give us a call and enjoy huge savings you simply won't find anywhere else.
These five are just the beginning. So there you have five great reasons to get excited about tech for your worship services in 2019! And the best part is, we've barely scratched the surface. Head over to fullcompass.com to see all the great gear we have to offer for houses of worship of every size. We're more than happy to talk, too! Give our expert staff a call at (800) 356-5844 to discuss your particular needs and discover why we've been a part of countless audio-visual installations for the last 40 years, and earned the trust of the worship community as it continues to grow.
This article was published in MinistryTech Magazine. Subscribe for free.