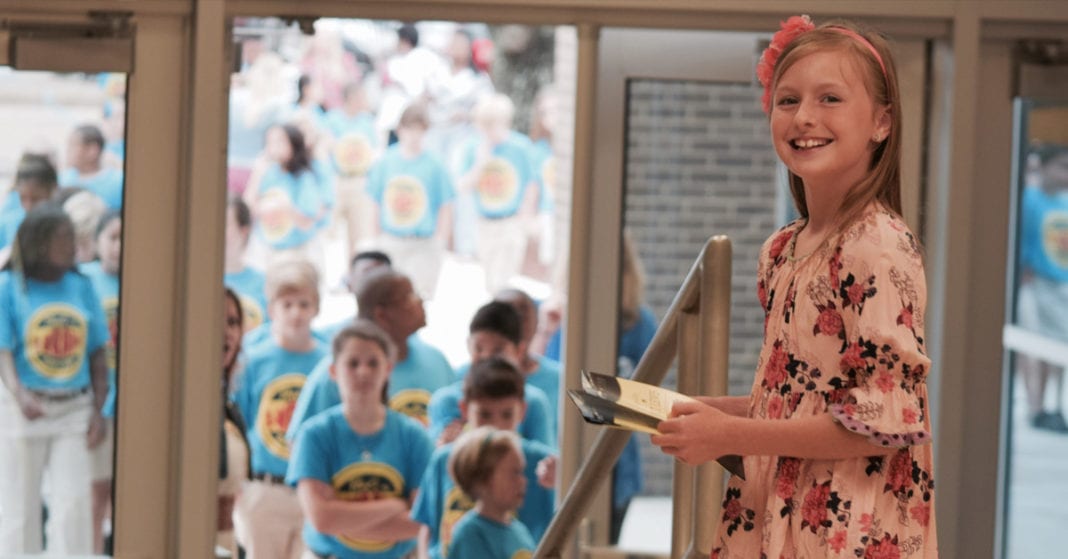 What simultaneously strikes fear and joy in the hearts of church staff and volunteers each year? Yep, you guessed it: Vacation Bible School (VBS). Anyone who has been a part of planning VBS knows the vast amount of time, resources, and imagination that [goes] into making these events memorable experiences. Unfortunately, all of that planning is for naught if no one shows up. Don't overlook one of the most important factors of a successful program: promotion and communication. That's where One Call Now comes in.
Delegation is the key to planning a large-scale event like VBS. And when it comes to tackling modern-day communication, who better to delegate to than your teens? Their involvement will also encourage the younger kids to attend when they see the enthusiastic participation of the teens they revere. Here are the roles to recruit for an awesome communication team
PUBLIC RELATIONS
Look for the student with great interpersonal skills who is adept at interacting with adults. Here are the tasks to assign:
Working with local businesses and organizations to see if they will display postcards and posters promoting the event.
Many communities publish a local magazine and/or website that lists kid's events. Your PR person should make sure your VBS is listed in all of those.
Fourth of July picnics, parades, and festivals are all great opportunities for outreach. Depending on your budget, you can sponsor a float or a booth, or simply distribute your promotional postcards.
PHOTOGRAPHER/VIDEOGRAPHER
Teens love to take pictures. (Hello? Instagram?) Here are the tasks to assign:
Take pictures during the event (you'll be happy you did this next year). Make sure your permission slips include a photo release.
Make a short video from pictures of past events. Set their creativity free on a 60-second teaser promotional video that can be posted on your website, social media, and used in meetings to promote your event.
WEBMASTER
Many teens have a talent or interest in web or graphic design. Here are the tasks to assign:
Create a dedicated landing page on your website
Include pictures from previous years as well as your promotional video. Use the page for all information: dates, times, locations, agenda, and permission slips.
The URL of the landing page should be on everything — your promotional cards, banners, yard signs — as well as in your bulletin and church home page.
SOCIAL MEDIA SPECIALIST
Look for a talented, reliable writer. Here are the tasks to assign:
Blog each day during the event. Let the community and parents know what your kids are up to each day. Also, it will serve as a great promotional tool for the following year.
Post regularly on social media before, during, and after the event. Posts before the event will be important for spreading the word and should link directly to your website for information and registration.
Evaluate what works and what doesn't. Social media is constantly changing.
GRAPHIC DESIGNER
This is your artist. Here are the tasks to assign:
Helping you with the VBS theme. There are lots of ideas and inspiration to be found on the web.
Design your promotional materials.
Edit and enhance your photos and images. If your church has a logo, put it on the images you share on social media.
All of these roles may seem like a lot to ask of your youth, but it is [a] great experience for your tech-savvy students. Empowering your youth will lead to other opportunities to serve your church and community.
The Adult Leader's Role in Communication and Promotion
As an adult leader, here are some actions you can take to ensure success:
Send regular calls, emails, and text messages to your youth, their parents, and the church community well in advance of your VBS.
Make sure all messages link to your VBS website.
The use of a group-messaging tool like One Call Now can be invaluable for events such as VBS. Here's why:
Once you have your contact list compiled, you can easily send email, text, and phone reminders to everyone on the list: everyone at once or to any particular subgroup you choose to create. They can receive the message in the manner they prefer — email for parents, text messages for youth, and phone calls for those who aren't techy.
One Call Now can create a subgroup of parents or other adults and send one or more messages asking for volunteers to help. The recipients can even respond to your request on their phone keypad and you'll receive a full report of the results.
The survey feature can be used to ask participants simple questions that they can reply to easily — "will you be participating in the water slide event tomorrow?" or "do you prefer chicken or pizza for lunch?" Again, you get a full report.
Getting kids to VBS is [a] big step. It's a great way to help kids during the vulnerable summer months and introduce new families to your church. Communication and promotion are key steps to ensuring your church reaches as many kids as possible. There's a lot that can be done to promote it so remember to call on your teens and use a powerful group message service like One Call Now.
Try it for FREE! Sign up for a no-obligation free trial. Enjoy the benefits that One Call Now has provided many other organizations.