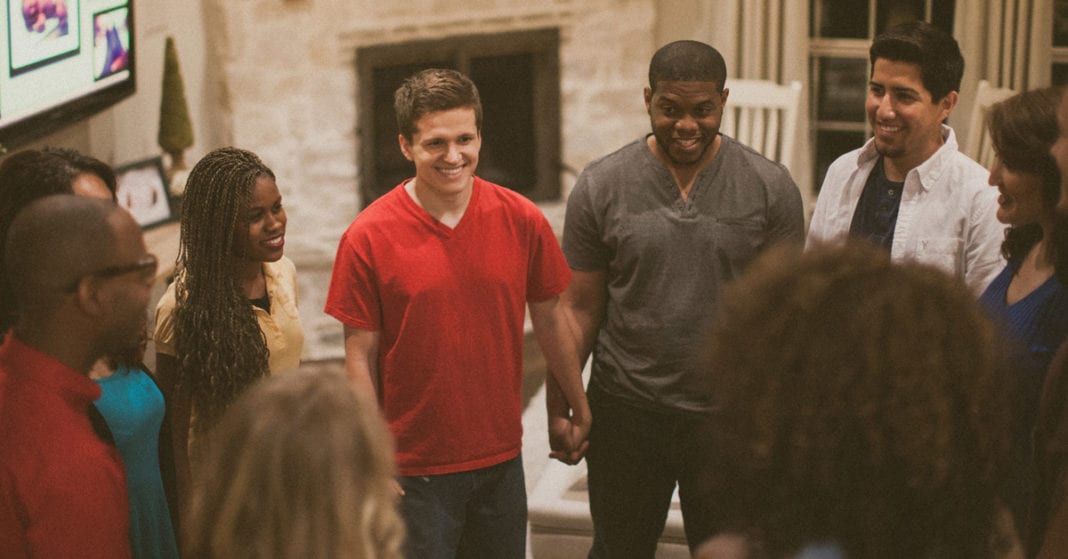 Use Blackbaud Church Management to create member and family profiles, so you have a single, go-­to source for each congregant's relationship and family information, giving history, interactions, emails, phone calls, and records of involvement with your church, whether it be volunteering, small group participation, or children's ministry.
Life group and small group management is a key driver of engagement, and Blackbaud Church Management gives you the power to create and edit lists with ease, set up calendar events, and track meeting attendance. Small group leaders can also text or email their whole group so that all members stay on the same page. Blackbaud Church Management simplifies the engagement process for another critical component of strong relationship building: events. Use it to create events from Sunday services to daily childcare to evening events. You can associate different groups or members with each event, provide online registration for upcoming activities, and pull attendee lists — all within one solution.
Handle member interactions entirely within the solution: set up a meeting and add it to your Outlook Calendar, or make a call without having to exit the mobile solution. Send emails in Outlook and track that communication on your member profile. You have full access to Blackbaud Church Management from your mobile device, so you can quickly access a congregant's latest information and involvement, or take notes on the fly that automatically update in the platform — instantly ensuring your whole staff stays up-to-date.
CONNECT YOUR ENTIRE CHURCH COMMUNITY WITH ONE HOLISTIC SYSTEM.
How many different software solutions does your church use to run its operations? Blackbaud Church Management™ offers you one unified solution for all congregant interactions. This way, you, your staff, and your volunteers have the same up-to-date information, and it's all available on your smartphone.
Blackbaud Church Management creates a complete view of your attendees' interactions with your church within the church directory. This directory stores all congregant information in one record, including:
Contact information
Relationships
Giving, volunteering, and attendance
Past communications
Plus, our data health service ensures that all contact information, including addresses, phone numbers, and email addresses, automatically remains up to date.
With our holistic cloud solution, you can track your congregation's email interactions and act on them by:
Developing data fields unique to you and your congregation
Easily segmenting and pulling any information you're tracking into lists.
Creating email lists by area, making it simple to notify attendees about nearby opportunities
Generating lists and sending emails on the fly using templates and drag-and-drop tools to grab text or add personalized information
Optimizing future communications by reviewing open rates, click rates, and analytics
Blackbaud Church Management provides benchmarking tools and industry leading reporting to keep an accurate pulse on the health of your church.
Track key fields such as attendance — by age or compare your donor acquisition and retention to other organizations.
Build interactive custom dashboards to help you track metrics unique to your church, the success of staff outreach efforts or a capital campaign.
Drill down to powerful insights and save unique lists for future targeted communications.
BUILD EFFECTIVE MINISTRIES
With a software solution purpose-built for your church, you save time and improve effectiveness, so you can focus more on your ministry. Blackbaud Church Management helps you care for your congregation with useful tools like:
Safe child check-in
Secure and easy to use giving
Streamlined volunteer management
One of the key aspects of any children's ministry is keeping kids safe and helping assure parents their children are secure. With Blackbaud Church Management, staff can easily check in kids or register new attendees using their phone or tablet.
Click on a child's name for medical info, allergies, and dietary restrictions.
Check in to multiple services all at once.
When check-in is complete, the software generates a unique code to print on a sticker and put on the child's shirt for use during pickup.
Blackbaud Church Management also makes it easy for members to give. The platform allows for one-time or recurring gifts, fully integrated with Blackbaud Merchant Services, which means gifts will automatically be stored on the giver's record without duplicate entry. Members can review card information, and complete transactions securely with Apple Pay or Visa Checkout. Create unique online donation forms, or event registration, all with mobile compatibility. Capture one-time donations or recurring gifts.
Volunteers are essential to any church, which is why our volunteer management solution makes it easy to track volunteers, their skill sets, interest, and availability. Store background checks to help keep your congregation safe, track volunteers' interests and abilities, and assign them to volunteer events. And it's simple for volunteers to make adjustments if their plans should change.
Go beyond a traditional church management solution and build a more effective ministry. With Blackbaud, you have industry-leading support, development, and features all backed by over 30 years of driving social good. Learn more at faith.blackbaud.com.