Dubbed the "pistol-packing preacher." 
Lucius Hall, 87, Chicago
Archbishop Lucius Hall, founder and pastor of First Church of Love and Faith and a leader in gospel circles, founded his church in 1980 and hosted the gospel program "Rock of Ages" on WCIU-Channel 26 in the 1960s. And he led Sunday radio services on WVON-AM.
He is remembered as "always accessible, patient and generous. I could call on him. I could go to his office. I could talk to him." 
A former Army military police officer, the archbishop made headlines in 1997 when he shot and wounded a burglary suspect who apparently crawled through the ventilation system before crashing through the ceiling of the church fellowship hall.
Source: The Chicago Sun-Times
A decades-long career in ministry.
Parker Knoll, 68, IN
Knoll died of COVID-19 on April 10 — Good Friday. He was 68. Throughout his decades long career in ministry, Knoll served as a pastor in Indianapolis, Louisville, Cedar Rapids and Dubuque.
"He loved Jesus, he loved his family and he loved people," his son said.
He was passionate about sharing his love of God with others, making home and hospital visits to minister and canvassing neighborhoods to evangelize. He continued to fill in at area churches even after retiring from full-time preaching in 2013.
"Pastor Knoll loved Jesus with all his heart and he conveyed that love to his family and all those he served," one person said.
Source: Indy Star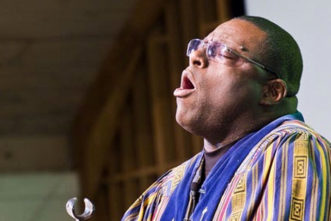 Pastor who "preached with a lot of strength."
David Ford, 59, DeWitt Township, Mich.
Ford, a pastor at Friendship House of Prayer Baptist Church on Waverly Road in Lansing, was a "gentle giant" with a booming voice, said the Rev. Melvin T. Jones, senior pastor at Union Missionary Baptist Church of Lansing.
"He preached with a lot of strength and voice and sweat," Jones said. "He had one of those singing voices that made you shiver on the inside."
Peers described Ford as a generous and unpretentious leader.
Source: USA Today
Served as an interim pastor to churches during difficult transitions. 
Allen Francis Tinkham, 91, Newington, Conn
The Reverend Allen F. Tinkham, 91, of Newington, served at the local and conference level of his denomination. His skilled and compassionate pastoral care coupled with a strong faith and knowledge of Scripture enabled him to serve as interim pastor to churches during difficult transitions. He saw ministry as a true calling and felt privileged to share in his congregants' lives. Allen was blessed with a large family that surrounded him in love. His hospitality was legendary. 
Source: Legacy.com
Pastor at Navajo Baptist Temple
Jimmy Walters, 71, Cudei, NM
Jimmy Walters was an old-school "hellfire and brimstone" pastor at a Baptist church on the Navajo Nation. Walters' wife, Rachel, and adult son Davis Begaye also passed away from Covid-19 over a three-week period.
Marvin Walters said that although his father didn't sugarcoat anything, he also had a reputation for being incredibly kind and encouraging. He said that since his parents' deaths, he's been getting messages from all over the continent from people who knew them through Navajo Baptist Temple in Shiprock, New Mexico, where Jimmy was a pastor for decades.
Source: Albuquerque Journal
None of these church leaders were famous outside of their circles when they died from Covid-19. They were simply faithful as they quietly shepherded the flocks God entrusted to them. We honor them here.