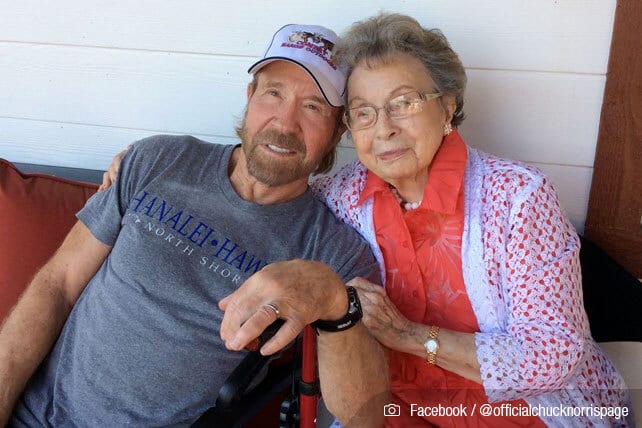 Iconic movie star, television actor, martial artist, producer, and Christian Chuck Norris wrote an article this week honoring his wife, Gena, and his mother, Wilma Norris Knight,for Mother's Day. Norris' mother turned 100 years old on Tuesday May 4, 2021.
Jokingly describing his latest interaction with his mother, Norris said he told her, "You're a centenarian!" to which she humorously replied, "I'm not a centipede!"
Norris shared that his mother lived through the Great Depression and picked cotton with her family to survive. She married at the age of 16 but his alcoholic father left his mom to raise him and two brothers by herself.
Chuck Norris Writes of His Mother's Faith
The 81-year-old actor said his mom "has been an example of perseverance and faith her whole life." He explained that "she is the last survivor of her 11-member biological family. She's also endured the deaths of her two husbands, a stepson, two grandchildren and my younger brother Wieland in the Vietnam War. She's had cancer repeatedly and has gone through roughly 30 different surgeries for a host of issues—and yet she's still here to tell about it."
Attributing growing up in church to his mother, Norris gave his life to Christ at the early age of 12, was baptized, and shortly thereafter attended a Billy Graham crusade that helped grow his faith in Christ.
The iconic tough guy revealed that his mother prayed for him his entire life. She started from the time he was born and she almost died from complications. Even when he was an adult, she prayed for a woman to come into his life and change him—which led Norris back to Jesus. Norris said that he "nearly" lost his soul to Hollywood a few decades ago, but his mother prayed for his success and his salvation.
Chuck Norris Pays Tribute to Wife Also
Not leaving his wife out of his Mother's Day tribute, Norris celebrated Gena by saying how much she helps him run all his enterprises, takes care of their twins, and is the love of his life and best friend. "I am overwhelmed with gratitude to God for these two incredible women's influence in my life. I wouldn't be the man I am without them," he wrote. "I thank God for you both every day! And I thank you for helping God to make me all I can and should be."
The karate-kicking proud American superstar said at a book signing back in 2004 that his mother "loves Jesus with all of her heart and soul and made sure we understood that. She influenced me spiritually and instilled in me a sense of responsibility that carried over in my later adult life. She always told me 'God has plans for you,' and I didn't know what she meant. I think I do now."