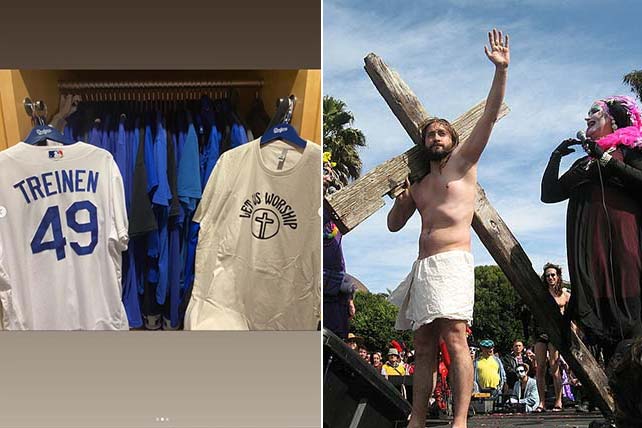 Blake Treinen, 34-year-old relief pitcher for the Los Angeles Dodgers, released a statement Tuesday (May 30) expressing disappointment in the organization's decision to invite the Sisters of Perpetual Indulgence, a group of "queer and trans nuns," to the team's annual LGBTQ+ Pride Night.
The 2020 World Series Champion, who is currently on the 60-day injured list while recovering from right shoulder surgery, sent the statement to his friend and Let Us Worship leader Sean Feucht so that Feucht could share it. Treinen doesn't personally use social media.
Feucht is also the founder of Hold The Line, a political activist movement "whose hope is to bring awareness that will lead to historic engagement in the governmental realm of cultural influence." Feucht sent ChurchLeaders Treinen's statement after he posted it on Twitter.
Feucht said Treinen has been a hero to his boys, adding, "But now it's not just because he's a killer baseball player. It's because he's bold and unafraid to stand for Jesus."
RELATED: Clayton Kershaw Won't Boycott Dodgers LGBTQ+ Pride Night, Announces Christian Faith Day Instead
"Yesterday, he asked me to share his letter to the world," Feucht wrote in an Instagram post. "In a world full of sports stars who bow to the woke and perverse mob, Blake and a few others stand apart…Thank you for being a true hero to my boys! We got your back!"
In the statement, Treinen said that he is "disappointed to see The Sister's of Perpetual Indulgence being honored as heroes at Dodger Stadium. Many of their performances are blasphemous, and their work only displays hate and mockery of Catholics and the Christian faith."
Earlier this month, the Dodgers publicly apologized to the Sisters of Perpetual Indulgence for removing them from their Pride Night lineup in response to backlash from conservative Catholic groups. Along with the apology, the Dodgers reinvited the Sisters to the June 16 event.
RELATED: Dodgers Apologize, Reinvite Queer 'Nun' Group To Annual Pride Night
Despite their "Hunky Jesus Contest," an annual Easter event where contestants dress up as Jesus—some of whom pole dance on a cross—the Sisters of Perpetual Indulgence say they aren't anti-Catholic.
"I understand that playing baseball is a privilege, and not a right," Treinen continued. "My convictions in Jesus Christ will always come first. Since I have been with the Dodger's (sic) they have been at the forefront of supporting a wide variety of groups…However, inviting the Sister's (sic) of Perpetual Indulgence to perform disenfranchises a large community and promotes hate of Christians and people of faith."