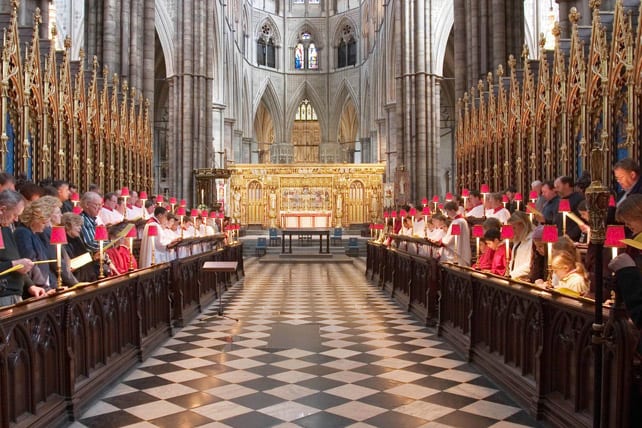 In the past we've touched on the delicate balance that churches must maintain while appealing to millennials without pandering or changing theology. But what if we're focusing our efforts in the wrong places?
What if the loud music and fog machines are actually clouding the Holy Spirit and preventing people from connecting with God? What if, instead of adapting to a modernized culture with our church services, we kicked it old school? Like, really old.
Well, that's exactly what the Church of England is doing. Despite growing secularism in the country, the church has seen attendance grow over the past several years with the help of a centuries-old liturgical tradition: Evensong. Choral Evensong is an evening prayer service that is delivered mostly through song, offering a restful, reflective time to worship God and pause from the busy-ness of life. The choir performs live and is often highly skilled and well-trained.
According to The Economist, many cathedrals and churches like Westminster Abbey recorded a 30 percent or more increase in Evensong attendance between 2008 and 2012. The website ChoralEvensong.org was even launched in order to facilitate the growing desire to learn about evensong and find church services that offer the weekly prayers.
Guy Hayward, editor of the Choral Evensong website, told Religion News Service, "A lot of people don't want to directly engage with the church, they don't want to go in through the front door, as it were. They are looking for a side entrance and choral evensong provides that. They are attracted by artistic expression and then by osmosis they find it spiritually appealing."
The widespread appeal could also be due to a much-needed slowing down that many millennials and others crave in a fast-paced, instant-gratification culture. Its origins, being rooted in the Scripture, doctrine and poetry, give worshippers a sense of history and reverence for tradition—something that can be lacking in many worship services we find today.
Neil McCleery, assistant chaplain at one of Oxford's oldest chapels, recently said it is rare to see attendance below 150 at a weekend evensong, contradicting the idea that church is facing inevitable decline. Many clergy like McCleery see this as an opportunity to draw more people into a relationship with the church.
"We get a lot of people who perhaps come to faith or return to faith by being drawn into that worship experience," he said. "I do wonder if it might be related to the trend for mindfulness in this era where we are constantly bombarded from the Internet, from media, from mobile, which are hard to get away from."
The varied musical forms and passages of spoken liturgy mixed with moments of contemplative silence lends balance and completeness to the form of the service, according to ChoralEvensong.org. The high percentage of music is what distinguishes it from other church services for most people and appeals to locals and tourists alike.
So what can we learn from this unforeseen surge in attendance in the otherwise post-Christian culture of the U.K.? With millennials leaving the church and a severe decline in denominational membership in America, perhaps returning to a disciplined, reverent worship service would have newcomers lining up to get inside the doors of our churches rather than exiting through them en masse.