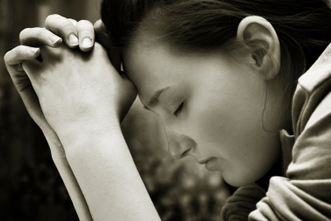 Have you ever considered the implications of Christ's startling words when He tells His disciples in John 15:5 "…apart from Me you can do nothing…"? Are we really so spiritually helpless that nothing can be accomplished without God?
My wife Carol and I made that discovery in the autumn of 1971 when the little inner-city New York church I was pastoring was struggling to keep the lights on. Moreover, Carol and I had frankly admitted to each other that unless God broke through, the Brooklyn Tabernacle was doomed. We couldn't finesse it along. We couldn't organize, market, and program our way out. The embarrassing truth was that sometimes I didn't even want to show up for the service. And our weekly Tuesday night prayer meetings were sparsely attended and less than powerful.
We had to have a visitation of the Holy Spirit, or bust.
I remember praying, "Lord, I have no idea how to be a successful pastor. I haven't been trained. All I know is that Carol and I are working in the middle of New York City with people dying on every side, overdosing from heroin, consumed by materialism. If the Gospel is so powerful…" I couldn't finish the sentence.
Quietly but forcefully, I sensed God speaking: If you and your wife will lead my people to pray and call upon my name, you will never lack for something fresh to preach. I will supply all the money that's needed, both for the church and for your family, and you will never have a building large enough to contain the crowds I will send in response.
I knew I had heard from God, even though I hadn't experienced some strange vision, nothing sensational or peculiar.
God was simply focusing on the only answer to our situation—or anybody else's for that matter.
The next Sunday, I came back to the church and told the tiny congregation, "I really feel that I've heard from God about our church's future. From this day on, the prayer meeting will be the barometer of our church…If we call upon the Lord, He has promised in His Word to answer, to bring the unsaved to Himself, to pour out His Spirit among us. If we don't call upon the Lord, He has promised nothing. No matter what I preach or what we claim to believe in our heads, the future will depend upon our times of prayer."
In the weeks that followed, answers to prayer became noticeable. Unsaved relatives and total strangers began to show up. There were junkies, prostitutes, and homosexuals. But lost lawyers, business types, and bus drivers turned to the Lord there, too. We started to think of ourselves as a "Holy Ghost emergency room" where people in spiritual trauma could be rescued.
I knew that a lot of churches gave lip service to the idea that God can do anything. But we needed to have real faith that anyone who walked in, regardless of his or her problems, could become a trophy of God's grace.
BREAKTHROUGH PRAYER
The story of our church's growing dependence on Christ is such a vivid reminder to me of how God uses praying believers to draw the lost to Himself.
As someone who's spent more than 25 years pastoring a church, I have seen many new believers repeatedly make futile attempts at victorious living in their own strength. But as they mature spiritually, they start to see their need for divine assistance and are driven to a deeper prayer life.
Unfortunately, when it comes to evangelistic outreach, we often overlook this discipline. We discount the truth that for us to be effective in our efforts to expand Christ's Kingdom on Earth, the Holy Spirit's power must be our source. Do we really believe that God can bring anyone to Himself?
Carol and I have seen countless lives transformed through prayer at our church, but several years ago in answer to believers' prayer, Ricardo Aparicio—known on the street as "Sarah"—walked through our doors and into our lives.
The whole outreach that touched this man was born in prayer. At our church, most ministries do not begin with a bright idea in a pastors' meeting. Over the years, we've learned to let God birth something in people who are spiritually sensitive, who begin to pray and feel a calling. Then they come to us and say, "We want to start this ministry."
Several years ago, a fellow named Terry and some others in our church grew concerned for the subculture of male prostitutes that flourishes on Manhattan's Lower West Side in a place called the "salt mines" where the city keeps salt for deicing streets. Living in abandoned vehicles or subterranean cavities, many dress in drag and offer themselves to customers who drive by.
Our outreach team began to bring food and blankets on Saturdays. Although these men made considerable money, most squandered it on drugs, which left them scavenging garbage cans and dumpsters for food.
To feel compassion for these guys, to understand their wretched life, was extremely difficult. Our church prayed fervently on Tuesday nights for love, compassion, and protection for them.
One Sunday, our outreach team got in vans and brought 27 of the men to our afternoon service. After the service, I met Ricardo. Walking down the center aisle, I bumped into an attractive woman in a black dress, with blond, shoulder-length hair, nicely done nails, black stockings, and high heels.
"Excuse me, ma'am," I said. She turned … and this low voice with a heavy Spanish accent replied, "No, that's okay, man."
Terry later told me that Ricardo was one of the main troublemakers who introduced young kids to crack cocaine and prostitution. He'd been plying his trade for at least 10 years, and the dreariness was finally getting to him. Over the next few weeks, Ricardo sat in our meetings where it dawned on him that maybe he could be different, that this Jesus he was hearing about could actually set him free from crack and this lifestyle. He kept listening, and after about a month, he gave his heart to the Lord.
I will never forget the Tuesday night we introduced him to the congregation. He stood before us, a bit shy, in male clothing. His blond hair had been cut, and dark roots were now growing out. His nail polish had been chipped off. The congregation couldn't help but cheer and praise God. Ricardo's story has been evidence to me and our church of what God will do in response to fervent prayer. No one is beyond His grace. No situation anywhere on Earth is too hard for God.
A PRAYING CHURCH
I have seen countless churches that desire to reach their communities for Christ execute strategy after strategy only to see their efforts fail miserably. Our churches today need less clever talk and more dependence on the invisible, convicting power of the Holy Spirit as they share the Gospel. When a church prays, the presence of God rests upon it and affects believers and unbelievers alike.
It's exactly how corporate prayer coupled with a simple Gospel appeal yielded such a vast spiritual harvest in the early Church: "They all joined together constantly in prayer, along with the women and Mary the mother of Jesus, and with His brothers." (Acts 1:14) Soon after, the Apostle Peter preached his first sermon with these results: "When the people heard this, they were cut to the heart and said to Peter and the other apostles, 'Brothers, what shall we do?'…and about 3,000 were added to their number that day." (Acts 2:37, 41)
Peter's fishing trade didn't really prepare him for public speaking. No doubt, his sermon was no oratorical masterpiece, but God's invisible power transformed his simple words into fiery arrows that pierced the hearts of the crowd that day.
Are you and I seeing the results Peter did? Are we bringing thousands of men and women to Christ? If not, we need to get back to this fisherman's power source—our greatest need today in churches. We're overloaded with organizational machinery, Bible translations, and sophisticated media techniques, and we're lacking the Holy Spirit's power and presence as we proclaim Christ's message.
Pastors and churches have to get uncomfortable enough to say, "We are not New Testament Christians if we don't have a prayer life." Granted, this conviction may make us squirm a little, but how else will we see God break through to our churches and the people around us?
PRAYER AND POWER
Throughout Scripture, you see this link between sincere, believing prayer and God's power on Earth. Remember the Church's reaction when King Herod arrested Peter and planned to execute him? For those of us dealing with the challenges of evangelism that are so prevalent in the so-called "post-Christian" era, the first-century account packs quite a punch.
Acts 12:5 says, "So Peter was kept in prison, but the Church was earnestly praying to God for him."
What were the believers doing when Peter was arrested? A steady stream of prayer ascended to God from a desperate church as Peter lay chained in a Jerusalem dungeon. The night before his mock trial, God responded to the fervent petitions of His people: "Suddenly an angel of the Lord appeared and a light shone in the cell." (Acts 12:7)
It's a beautiful picture of the invisible side of outreach when God works with His people. Something from heaven suddenly appeared. No human power could manufacture or organize it. It was something from heaven, and I'm convinced it can still happen today when our churches pray.
The angel struck Peter on the side and "woke him up." Isn't this what all our outreach efforts are geared toward today?
Don't we desperately want to awaken the lost from their "sleep?" That's what the Psalmist prayed to God for—to "come down" and awaken men and women to what really matters in life.
The story ends on a victorious note: "The chains fell off Peter's wrists." (Acts 12:7) Peter—a chained prisoner guarded by four soldiers—was set free by Almighty God in answer to the petition of a group of praying believers who couldn't get within 100 yards of the man.
I've seen how God can still break chains today—drugs, pornography, compulsive immoral relationships, alcohol abuse. The Holy Spirit alone has brought "something from heaven" that illumines, awakens, and liberates people God loves.
To see people like Ricardo transformed into new creations, the invisible side of outreach—whether it's the heartfelt cries of a wife in a one-bedroom apartment or the shouts of a congregation in a Tuesday night prayer meeting—is essential. It's life giving. Apart from Him, we can do nothing.
'Someone Had to Stand in the Gap'
Drug dealing. Drug addiction. Robbery. Drive-by shootings. Pimping. You name it; Willie McClean was in the thick of it.
"I was wrapped up in sin when my wife started seeking God and got into a prayer group," McClean remembers. "When she told me she had become a Christian, I told her she was going to be my worst enemy."
It wasn't long before the friends and customers who frequented Willie's house to get high stopped
coming because of their aversion to the gospel music Elise McClean played.
"Looking back, I can see that the Holy Spirit was moving because my wife was praying," Willie says.
But the hard years were just beginning. He was in and out of jail, addicted to drugs and almost died from gunshot wounds. "I was about to go back into jail, and I wanted to get high off everything I could, but I didn't have any money," Willie says, recalling the day that finally changed his life. "My wife said I needed Jesus, but I didn't want anything to do with Jesus. But she said that if I went to church, she'd give me a few dollars. So I went to church."
Slouched up in the top of the church balcony, Willie listened. "I felt like Pastor Cymbala was talking just to me," he says. By the end of the service, he had walked to the altar to dedicate his life to Christ.
Since then, he's kicked his drug habit, strengthened his marriage, and now works full-time at the church.
"Someone had to stand in the gap for me," he says. "My wife stood on God's promises and prayed for me for 15 years. And since I've been in the church, God has surrounded me with mighty prayer warriors. Being around praying people made me realize how good God really is."
'If People Weren't Praying for Me…'
Most Tuesday nights, Barbara Marengo can be found at the Brooklyn Tabernacle's weekly prayer meeting.
"It's amazing to realize that for 10 years, I was being lifted up in prayer at this meeting the same way we're lifting up others today," says the 34-year-old New Yorker.
Marengo was raised at the Brooklyn Tabernacle where her father served as a deacon, but at 21, she headed down a different path that led to a decade of rebellion and a string of increasingly abusive boyfriends.
"When I talked to my parents or friends from church, they would remind me that this wasn't the life God wanted for me," Marengo says. "But I was trying to prove them wrong —trying to prove that I could do it on my own."
Her illusion of sufficiency disintegrated into tragedy when her then-boyfriend killed her 3-year-old daughter. "The state claimed I knew she was in danger," Marengo says. She was charged with manslaughter in the second degree.
That night from her jail cell, she cried out to God: "I'm in trouble, and I need you."
After two years in jail and a year of probation, Marengo now works full-time at Brooklyn Tabernacle and is piecing her life back together. "I can truly say that God has healed my broken heart, and He is changing and making me into what He wants me to be.
"My parents used to pray for my protection every day, and there were times when I think I would have been dead had it not been for their intercession. I know my life wouldn't have changed if people weren't praying for me."
'Prayer is the Reason I'm Here'
Most people thought Bob Adamo had it made. The single 30-something was a manager at IBM and living the posh life in the affluent Brooklyn Heights neighborhood. On the outside, it looked like he had it all. But Adamo knew better.
And so did Tara, his new secretary. Later, she told her boss that God had placed a burden for him on her heart. She prayed for him every night, and every day she looked for opportunities to talk about God. Though he felt relatively self-sufficient, Adamo's workaholic ways and superficial relationships left him feeling empty.
"I had a big hole in my life, and I didn't know what it was," he explains, thinking back to those days. "So I was open to what Tara had to say, and we had good conversations."
Still, Adamo repeatedly turned down her invitations to come to church. It wasn't until she invited him to a Brooklyn Tabernacle Choir concert at Radio City Music Hall that he agreed to come along.
"I sat next to her mom because Tara and her dad were in the choir," he recalls. "Pastor Cymbala spoke about creation. I have a B.S. in biology, so I have a lot of interest in that area. I don't really remember much of what he said, but when the time came I stood up and gave my heart to Christ."
That was 13 years ago. Since then, Adamo has served as the best man at Tara's wedding, joined the Brooklyn Tabernacle Choir, and married a fellow choir member. He and wife Liz will soon serve as the godparents to Tara's second child.
"Tara and her family prayed for me faithfully every day for more than a year," he says. "Their prayers are the reason I'm here."
Jim Cymbala has been the pastor of The Brooklyn Tabernacle for more than twenty-five years. In that time, the congregation has grown from twenty members to more than six thousand. The author of Fresh Wind, Fresh Fire; Fresh Faith; and Fresh Power, he lives in New York City with his wife, Carol Cymbala, who directs the Grammy Award-winning Brooklyn Tabernacle Choir.
Copyright © by Outreach magazine. All rights reserved. Used by permission.