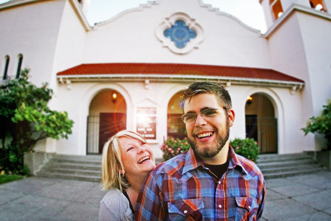 When Winston Churchill said, "We form our words, then our words form us," few would consider that his profound observation could give insight into a church's ability to reach their community for Christ. However, altering Churchill's thought to, "We form our buildings, then our buildings form us," could motivate us to consider how modifying our church buildings can potentially shift our congregation's focus from inward to outward.
Increasingly, churches are discovering that making strategic changes to their facilities and image also enhances their ability to connect with visitors and the unchurched in their community. We spoke with a number of these churches to learn about the specific changes they made, the details involved in that change, and the resulting impact.
While the types of changes were varied, a few facts stood out:
• All of the churches interviewed for this article made strategic changes based on a strong, deliberate commitment to make relevant connections to the unchurched—not out of changing values toward the Gospel or an emphasis on style over substance. In fact, these churches have discovered that their cosmetic enhancements now better reflect the heart of their ministry.
• Most of the churches that have sustained success in reaching the unchurched made more than one change to their facility. They also updated their content and the way it's delivered. Overall, these churches moved away from their comfort zones and personal preferences to reinvent the way in which they communicate the Gospel. As a result of our interviews, we identified five of the most significant renovations that produced measurable results:
• Experience environments in your children's and youth areas.
• Visual branding (new colors, banners, and signage).
• Name change.
• Plaza community spaces for social connection.
• Changes in the stage and platform areas in your sanctuary or multi-purpose room.
In his book, The Great Good Place (Marlowe & Company), author Ray Oldenburg writes about "third places"—gathering places where people go for informal community, conversation, and connection. The first two places in a person's life are home and work, he says. The idea behind a third place is that people have a need in their lives for these types of gathering places.
Throughout history, he writes, great cities and civilizations have always had third places, i.e. the neighborhood bistros in France, the Italian piazzas, and the pubs of England and Ireland. In the United States, those third places are often coffeehouses. That's why more churches are renovating parts of their buildings to create Starbucks-like spaces, combining coffee with comfortable seating that fosters conversation and connection.
A few years ago, Grace Community Bible Church remodeled its old auditorium into a community plaza/coffee bar space that serves quality coffee and fresh cinnamon rolls. The space has created such a positive atmosphere for outreach that the church has made other changes to encourage as many people as possible to come to the gathering area. They even moved their children's registration to the space to connect with young, visiting families.
"It's an exciting environment that does a great job of connecting people and helping guests feel welcomed," says Senior Pastor Keith Bower.
Piñon Hills Community Church also renovated its former sanctuary into a community plaza room with a video feed of the worship service.
"The renovation has made a significant impact on the warmth of our atmosphere," says Senior Pastor John Morgan, "and it has changed the way the church is perceived by visitors."
---