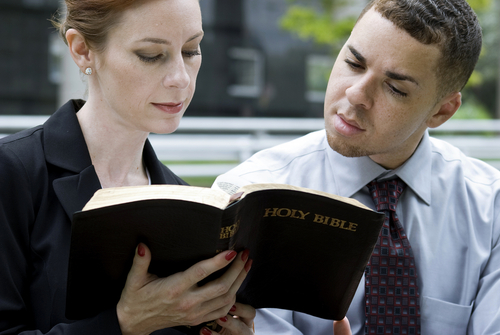 As I look at our churches, I think the state of outreach in the American Church is very good overall. The churches that are growing are the ones that have turned evangelism into something all of their members do. They don't look to an evangelist, a preacher, or a TV show. They look to each other.
Sometimes when I'm speaking to a large group, I'll ask very simply: "How many of you were led to Christ because of a great evangelist? A TV show? A great sermon?" Then I ask, "How many of you were led to Christ because some ordinary person loved you and wouldn't let go of you until you made a decision about Him?" Almost everyone raises their hands on that last question. In the end, true evangelism ends up being very personal evangelism. I think the Church at large is leaning more upon the laity and less on the professionals. That gives me great hope for the future of the Church.
ON DISCRIMINATORY OUTREACH
My question to pastors—and it's a question they should be asking themselves—is not, "Who is coming to your church?" but rather, "Who isn't coming?" I don't know that we're overtly discriminatory in whom we choose to reach out to, but I do think we discriminate. We reach out to people like ourselves, which means we leave out of the Church the people who are different than we are. What happens to those people on the fringe or those who don't fit the mold? To a large degree, they get left out.
I think the Christian Church could do a lot more to reach those people. And I think if we're going to be the kind of Church Jesus Christ wants us to be, we will reach out to those nobody wants.
ON PERSONAL REFUELING
I do two things to revitalize my passion for evangelism. Number one, I have a little support group of personal friends that meets with me regularly. We get together in the back room of a local coffee shop, and we pray together. We hold each other accountable. This group is crucial.
The second thing I do is even more important. I get up in the morning a half hour before I have to and spend time in absolute stillness. I don't ask God for anything. I just simply surrender to His presence and yield to the Spirit flowing into my life. Isaiah 40:31 says, "Those who wait on the Lord will renew their strength." The next verse says, "Keep silent before me."
An interviewer once asked Mother Teresa, "When you pray, what do you say to God?" She said, "I don't say anything. I just listen." So the interviewer asked, "What does God say to you?" She replied, "God doesn't say anything. He listens." That's the kind of prayer I do in the morning. I empty myself and allow the Spirit to speak to me as Romans 8 says, "with groanings that cannot be uttered."
ON LEARNING FROM THE UNCHURCHED
For 10 years, I taught a variety of courses as a professor at the University of Pennsylvania. One day during a course on social problems, I was talking about prostitution. Thinking I was setting up the class, I asked them, "What would a Buddhist say to a prostitute? What would Mohammad say?"
Finally, I asked, "Have you ever thought about what Jesus would say to a prostitute?" And this Jewish agnostic student sitting on the front row said, "He never met one." And I said, "Oh, yes, He did." I was about ready to whip out my Bible and lay one on him—show him how Jesus did meet prostitutes and what He had to say to them, how He loved and cared for them.
The student piped back, "No, you didn't hear me. Jesus never met a prostitute." I said, "I'm telling you He did."
He said, "Dr. Campolo, if Jesus ever met a prostitute, do you think He saw a prostitute?"
I was stone still. Of course He didn't. When Jesus saw a prostitute, He didn't see a prostitute. He saw a precious soul. He saw someone He cared for and loved. And I said, "You got me."
That led to a wonderful discussion in this secular university on the way Jesus looked at people. When that class ended, I was so grateful to that young man because I learned from him.
ON PREACHING ANOTHER JESUS
If I could tell pastors just one thing, I would say that it's about time you turned to 2 Cor. 11:4, which cautions, beware if you preach another Jesus.
We have a tendency to re-create Jesus in our own image. We tend to take the Jesus in Scripture and make Him into a white, Anglo Saxon Protestant Republican instead of allowing Him to be an incarnation of Jehovah. He ends up being an incarnation of what it means to be an American.
Such a Jesus legitimizes the American affluent lifestyle, our selfishness, and consumerism. Go back and read the New Testament and be honest about how radical Jesus really is and how radical He calls us to be.
Compare that Jesus with the Jesus you're preaching. Are you preaching the biblical Jesus or—in the words of Paul—are you preaching another Christ?
ON PURSUING A RADICAL VISION
A lot of pastors have visions for radically reaching their communities for Christ, but their congregation doesn't want to move. That's the situation I find more often than not in churches.
Here's my suggestion: If you come in and preach this stuff, most of your congregation will just blow it off. But there will always be a few with whom what you're saying will resonate. You, therefore, will have to continue your ministry on two levels. You'll do traditional ministry for those who've blown off your radical vision. And for that small group who's radically turned on for Christ, you'll begin to meet with them to develop a ministry plan.
The thing to remember here is that you're not going to move your whole church in a radical direction. If a few people in your church are willing to share that commitment, the rest of the congregation won't care if you pursue this vision with a smaller group as long as you leave them alone. So you preach the Gospel and nurture the congregation as best you can, but put most of your energy into the lives of those who want to go radical at the cross for the kingdom.
Tony Campolo is professor emeritus of sociology at Eastern University in St. Davids, PA, and an ordained minister. He is the founder of the Evangelical Association for the Promotion of Education (EAPE) and has provided the leadership to create programs for at-risk children nationwide and in Canada. The author of 28 books, Campolo's most recent title is Speaking My Mind (W Publishing).