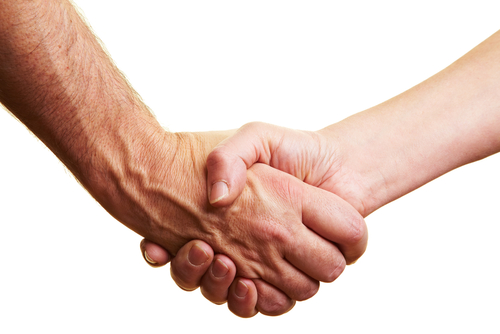 My favorite parable of ministry today is the story of a mail carrier delivering the mail. Let's say his name is Norman, and he's filling in for his friend Nancy.
Norman approaches one walkway and sees on the porch an Eskie, a little white snowball of a dog eyeing him warily from the side and growling. He's seen dogs before, and this fluffy white thing doesn't seem terribly threatening. At least he's not barking outright. So he goes about his business, smiles and says, "Nice doggie."
And the dog bites him.
"I don't get it," he later grumbles to Nancy.
"You did five things wrong," Nancy explains.
"First, dogs don't speak English. They speak Dog. Second, you smiled and bared your teeth. To a dog, that's a threat. Third, you probably made your eyes wide and looked straight at it. That's also a threat. Fourth, you entered its territory without slowing down or turning sideways, which escalated the conflict. You're supposed to show some fear, or at least stop if you stare back. And fifth, nothing personal, Norman, but your ears stick out. You might as well have worn a sign saying, 'BITE ME.'"
Many of us in ministry are like Norman. We have the best of intentions, and we are working harder to deliver the Gospel letter than ever before. But our message isn't getting across, and we're carrying scars from the bites and bruises of our efforts.
One of our problems is that we have failed to be as good cultural exegetes as we are biblical exegetes. We are better at God-Talk than cultural God-Walk. It's critical that we as leaders understand this new emerging culture and demonstrate the timely nature of the Gospel message even in a changing culture.
As the church, we need to be introduced to a new way of thinking and talking about ministry. The root metaphors of the modern world have burned out. When the root metaphors or paradigms change, so does everything else. The emergence of new metaphors on which to build life and prepare for eternity are what some people call "postmodern culture" or "native culture."
Some of us are immigrants to this emerging culture, prepared to do ministry for a world that is no longer there. Others of us are natives. For discussion sake, I suggest that those of us born before 1962 are more likely to be immigrants, and those after 1962 natives. Some of us are born B.C. (Before Computers). Some of us are born A.C. (After Computers). Have you ever noticed that talking to your kids gives you the uneasy sensation of moving through another epistemology, another mindset…but the same heartset? Although our kids have brains that are wired differently from ours (thanks to this shift in culture), the hungers of their hearts are the same. But to look at our children is to look at this future culture and to recognize the need for our shift in thinking.
However, as people from 8 to 80 are introduced as joint members of an "e-generation," the distinction has much more to do with psychographics than demographics. I know some church leaders in their 80s who are more "native" than some church leaders in their 30s and 20s.
Much of the church renewal literature is based on seizing the present and restoring churches to the status quo ante, to their condition prior to their decline and problems ("when we had a full sanctuary"). But instead of looking to the past, our churches should embrace the new imaginative architecture of the emerging culture and become students to what lies ahead—shifting our focus to carpe mañana.
Leonard Sweet is author of numerous books including SoulTsunami, AquaChurch, SoulSalsa, and Carpe Mañana. He is the E. Stanley Jones professor of evangelism at Drew University in Madison, New Jersey.