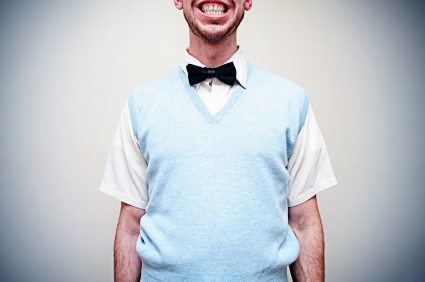 1. Stay close to home. Don't venture too far from your home and church. For fear of being influenced by the strange habits of non-Christians, stay within the safe, known company of those who think like you. By doing this, you're guaranteed to never set a Christian example among the estimated 175 million American unbelievers. Moreover, unbelievers will not be able to teach you anything about their struggles and challenges with their personal faith and beliefs—or lack thereof.
2. Read only Christian material. Because other books and magazines may address controversial, challenging topics, stick with only the Bible and Christian classics. This ensures a limited perspective on the world and culture. Steer clear of books like The New York Times bestseller The Language of God by Francis S. Collins (Free Press), which argues that faith in God and faith in science can co-exist.
3. Consider technology as something only for the youngsters. Don't worry about new technology—blogging, podcasting, etc. After all, there are only 73 million Americans under the age of 18 who are more familiar with Web sites than books and more accustomed to iPods than VCRs. By refusing to learn about new technology and how it can be used for more effective means of outreach, you can make sure that you or your church won't be of any interest to today's younger generations.
4. Don't use modern-day examples. When you preach, open with corny jokes, and use only dated stories to illustrate Bible lessons. Your unchurched or dechurched visitors will have a tough time understanding and relating. If you use the Bible, but then choose to also share secular examples from current movies or songs that many people are familiar with, they might better understand God's message and its applicability in their lives.
5. Don't make relevancy a goal. As you and your church leaders set goals, don't prioritize relevancy. By doing this, you'll be sure to follow steps 1 through 4.
Exegesis Exercises
Like every other church, the one I lead, National Community Church (theaterchurch.com; NCC), is a work in progress. But one reason why 71% of our congregation comes from unchurched and dechurched backgrounds is that we take incarnation seriously. One of our core values is irrelevance is irreverence.
That incarnational approach to church is also helping us reach emerging generations. Some 73% of NCCers are single 20-somethings.
Here are some of the ways we've tried to exegete culture and incarnate the Gospel. How can you adapt the principle of each one to your church and community?
Preach sermon series on popular movies or music.
Every year, we do two message series titled "God @ the Box Office" and "God @ the Billboards." The 60% of Americans who don't attend church get their theology from movies and music. For better or for worse, musicians and moviemakers are the chief theologians in our culture, proven by the fact that Americans know more about Homer Simpson, Harry Potter, and the latest number 1 song than they do about current news, world leaders, and classic literature.
These sermon series are attempts to exegete the movies and music that are shaping the cultural consciousness of 175 million unchurched Americans. Then we juxtapose them with Scripture. The reason is simple: Movies and music are brutally honest about the human condition. They may not align with the truth, but they are in touch with reality.
Cross-pollinate by reading a variety of books and magazines.
Books and magazines help leaders get a pulse on culture. And don't just read books on topics you already know something about. Expand your horizons and read from a variety of disciplines. Your local bookstore should be your second office. Walk through the science, business, and bestseller bookshelves. Scan the magazine rack for cover lines of articles you know little about.
I don't want to become a closed system. That's why I subscribe to a range of magazines from disciplines like psychology, business, graphic design, and science. Cross-pollination keeps me from developing tunnel vision. And here's a thought—every "-ology" is a branch of theology. Everything God has created reveals something about the Creator. Annually at NCC, we do a cross-pollination message series like "The Physics of Faith" and "The Neurology of Faith" that juxtaposes faith and science.
Perform reconnaissance at retail stores and entertainment destinations.
Part of cultural exegesis is being a student of what others are doing and thinking, redeeming those ideas, and incarnating them in our context. The key is always having your radar on and your antenna up. When you're in reconnaissance mode, you'll be surprised at how many redeemable ideas you'll discover around you.
Whether we are aware of it or not, our competition is the retail world. Restaurants, malls, and entertainment destinations have set the standard for excellence and creativity. Subconsciously, the people who walk into our churches compare us to the restaurant they had dinner at last night or the store where they'll shop that afternoon.
Our team has done reconnaissance at a variety of places in D.C. Before opening Ebenezer's in March 2006, the largest coffeehouse in Washington, D.C., we knew we had to pass what we called the Starbucks litmus test. If our product, prices, and environment weren't comparable to Starbucks, there was no point in us opening the doors. So we spent years doing reconnaissance at coffeehouses. We simply learned from the best practices of others.
Take a field trip to public attractions.
We have learned about branding from IKEA, the Norwegian household megastore known for its original products, low pricing, and European labeling. We've learned how to engineer multi-sensory experiences from a David Copperfield show. And a recent excursion to the Spy Museum, which reveals the role spies have played in world events throughout history, led us to create a sermon series titled "iSpy" that will focus on discovering your new identity in Christ.
Isn't that exactly what Jesus did? He was a carpenter by trade, but most of His parables were agricultural. Evidently, He did enough reconnaissance to speak intelligently about agrarian issues. I'm guessing He visited a few farms and interviewed or talked with more than one farmer along the way.
Visit other churches and conferences.
We designate approximately 5% of our church budget for personal development of our staff, giving them a resource budget to be used, at their discretion, on books, classes, and conferences. We believe that as long as they're growing in their walk with Christ, their ministry will be an overflow of what God's doing in their life.
We're also intentional about taking our staff to a variety of church leadership conferences. Everyone on staff—not just two or three people—attends the Catalyst Conference in Atlanta every October (catalystconference.com).
Do reconnaissance at churches that are implementing ideas you want to attempt.
A few years ago, I spent a weekend at Mosaic in Los Angeles (mosaic.org) because we wanted to see how they did church in a nightclub environment. We visited North Coast Church in Southern California (northcoastchurch.org) when we added video venues. And a trip to Community Christian Church in Naperville, Illinois (communitychristian.org), proved to be a huge resource when we launched our second site. The visit helped us develop a ministry matrix so that our new location was fully staffed with volunteers in every ministry on day one. We also started to rethink the way we approach our services. Our worship, message, and creative elements now revolve around one big idea every weekend.
Too many times, we let our pride and arrogance keep us from learning from other leaders. We try to do everything on our own, and often we fail. I've learned that every church, including ours, stands on the shoulders of other churches. And to reach the unchurched and dechurched, we have to look to other leaders.