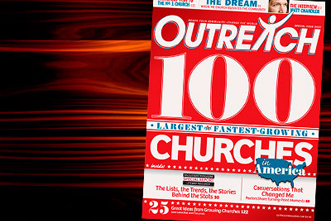 VISTA, Calif., Sept. 8, 2010—12Stone Church in Lawrenceville, Ga., has emerged as the Fastest-Growing Church in America, and Joel Osteen's Lakewood Church in Houston remains the Largest for the seventh straight year, according to the 2010 Outreach 100, a special issue of Outreach magazine.
Outreach partnered with LifeWay Research again for the Outreach 100 Special Issue. Researchers contacted more than 8,000 churches to gather the self-reported attendance data used to compile the lists. Attendance figures are based on February and March weekend attendance averages.
"Ultimately, the Outreach 100 is not so much about numbers as it is the individuals those numbers represent—people who have found hope in Jesus, and the churches pointing them to Him," Outreach editor Lindy Lowry said.
To reflect the impact these churches are having and the heart of why they're growing, the magazine increased the number of churches profiled in the issue from five to 15. Additional feature articles also tell the stories behind the numbers.
"The Outreach 100 lists are a window into the ongoing lives and ministries of churches in motion," said Ed Stetzer, president of LifeWay Research and an Outreach columnist. "They give us a freeze frame from an epic motion picture that is engaged in God's mission."
The Outreach 100 issue includes an article about five megachurches across the country that are working to elevate their surrounding communities through Dream Centers. It also features a candid conversation with Matt Chandler, lead pastor of The Village Church in Flower Mound, Texas, (No. 59 Largest and No. 81 Fastest-Growing) about his public fight against cancer, reaching nominal Christians and his leadership at the church.
Here are the top five Fastest-Growing and the top five Largest Churches as reported by Outreach and LifeWay Research:
Top 5 Fastest-Growing U.S. Churches
(church name, location, pastor, growth by percent, by number)
1. 12Stone Church, Lawrenceville, Ga., Kevin Myers (30 percent, +2,226)
2. Experience Life Church, Lubbock, Texas, Chris Galanos (60 percent, +1,061)
3. The Rock Church and World Outreach Center, San Bernardino, Calif., Jim Cobrae (25 percent, +2,646)
4. People's Church, Oklahoma City, Okla., Herbert Cooper (58 percent, +1,085)
5. Faith Church of St. Louis, Fenton, Mo., David Crank (36 percent, +1,200)
Top 5 Largest U.S. Churches
(church name, location, pastor, attendance)
1. Lakewood Church, Houston, Texas, Joel Osteen, (43,500)
2. North Point Community Church, Alpharetta, Ga., Andy Stanley (24,325)
3. Second Baptist Church, Houston, Texas, Ed Young Sr. (24,041)
4. Willow Creek Community Church, South Barington, Ill., Bill Hybels (24,000)
5. Southeast Christian Church, Louisville, Ky., Dave Stone (19,230)