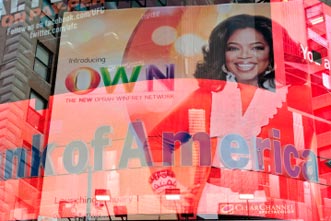 My wife and I arrived late last night from our trip to Colorado Springs. We had just finished watching the Oklahoma City Thunder get eliminated by the Dallas Mavericks in the NBA Western Conference Finals. When we got home, my sister-in-law, who had been housesitting and taking care of our sons, was watching the Oprah Show.
I decided to tune in and asked her to record it from the beginning. I know there are tons of thoughts about Oprah—good, bad and ugly. I have always appreciated the empire that she has assembled and her commitment to fight and bring awareness to issues that are dear to her heart. I have always heard about (and maybe even watched) a YouTube video or so about her lack of belief in Jesus as the only way and that she embraces the "many paths" philosophy.
I don't know enough to emphatically comment on her beliefs; however I was really impressed with her final show. It was just Oprah on the stage without any guests. Oprah addressed her fans, payed respect where respect was due and, in my opinion, had a great message about the importance of belief and validation.
Oprah reflected on the 25-year history of the show and her experience interviewing over 30,000 guests. She stated that those 30,000 people all had something in common. The one thing they had in common was the need for validation.
3 Questions Everyone Needs Answered:
1. Do you see me?
2. Do you hear me?
3. Does what I say mean anything to you?
3 Ways To Validate Others: (Family, Friends, Spouse, Children, Employees, Boss…)
1. I see you
2. I hear you
3. What you say matters to me
I thought the overall tone of the show was great, and Oprah had a great spirit. Oprah seemed to take extra time and pay special attention to giving honor to God. She talked about listening to the inner voice or inner spirit and she mentioned that she attributes the success of the Oprah show to "her team and Jesus." Yes, she said "Jesus," and she made reference to the Alpha and Omega, the Omniscient, Omnipotent and Omnipresence of God.
I don't know enough about Oprah's beliefs; however I do know that on her last show, with probably the highest ratings ever, she made a special point to have this internal and external dialogue about God. It appeared as though there was something there; something just seemed different. Oprah Finds Jesus? I'm not sure, that's between Oprah and Jesus.
There are many of us who have been lost with a history of jacked-up thoughts and lives until we found Jesus. Personally, I don't like it when people talk about Oprah as though she can't change and can't find Jesus. That's unfortunately a terrible form of arrogance.
Oprah signs off her show finale with, "To God Be The Glory!"