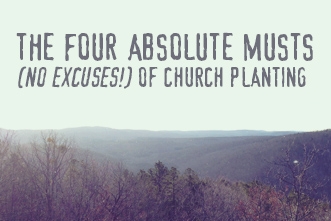 "Be fruitful and multiply" (Genesis 1:28) has been the theme verse for my life and ministry. I believe this verse applies to everything we do, and is God's heart for all things big (the church), small (our life) and in between. In many ways, you could say the original Great Commission is Genesis 1:26-28.
Recently, I participated in the launch of three new churches in Long Beach, California. These are churches we've worked with, trained, assessed, coached and resourced. These are also churches that understand how to be a Genesis 1:28 church.
Below are a few reminders from these churches and how to plant well and plant healthy.
1. Be Quick, Don't Hurry!
Legendary basketball coach John Wooden always reminded his championship players and teams to "be quick, don't hurry." Too many church planters hurry into planting their church. They usually do this because they need to generate revenue on a regular basis. Passing the offering basket isn't a good reason to accelerate a church plant.
Others hurry because by nature. Many church planters are anxious and want to get after it as quickly as they can. The reality is that when you hurry things, you tend to make costly mistakes. Coach Wooden recognized that being quick is vital to winning and when you hurry you make your most costly mistakes. The same is often true in planting a church.
Here are a few common mistakes that often occur when church planters hurry their church plant:
They plan an event and develop a team of event planners instead of planting a church with a team of ministry leaders.
They introduce ineffective pathways for assimilation and discipleship.
They plant without the resources needed to be successful.
They don't hear God's voice (no time to listen).
They allow church planting to become a task and not a spiritual adventure.
They tend to make uninformed and rushed decisions that aren't in the best short- and long-term interest of the church.
They end up planting a worship service instead of planting the Gospel and a church.
They plant a church that looks nothing like the church they wanted to plant.
They alienate others from joining in the process.
They plant a church with an unhealthy genesis and foundation.