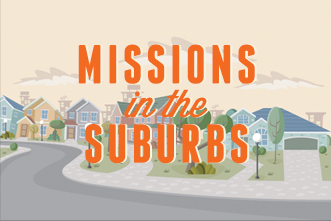 When I was asked to write about missional community in the suburbs, I was reminded why I love my missional community. Being in a MC is not always awesome, but now I wouldn't trade it. We've seen some great things happen.
I could go on about my community, but let me describe why I enjoy doing MC in the suburbs and explain why, in God's providence, I think it's working so well. As I write, I'll weave in some experiences and decisions I've made.
Suburbs are Great for Missions
First, let me say that the suburbs are a great place for a community on mission. Usually, the mission to declare and demonstrate the gospel is the missing link that ties MCs together, but suburbs are great for mission! There are lots of reasons that this is so:
1. Suburbs are broken up into neighborhoods. Both community and mission happen more naturally in a defined neighborhood. This may seem obvious, but, sadly, it's not. You can shoehorn your calendar to make it work far away, but you'll run out of steam eventually. It's hard to get focused and passionate about reaching an undefined group of people like "all our friends at different jobs" or "people from all our different neighborhoods."
For the same reason, people don't move overseas to reach Afghanistan and then all live in different countries. Our MC's explicit mission is "to make disciples in the Brushy Creek neighborhood." We are all praying for the same faces and names. This has been life for our MC!
2. Suburbs usually have several entry points. Besides just being neighborly, most suburbs have several coordinated things going on. Our biggest break was when my wife began attending Bunco (also called "drunko" by the ladies) with a bunch of other neighbors. Then these saucy ladies invited her onto the Yard of the Month committee.
Suburbs do all kinds of things where you can join in (HOA, basketball, Bunco, Christmas parties, block parties, Halloween, parks, sports, pools, your own parties, etc.). As we've gotten into deeper friendships, we have a policy to never say 'no' to a neighbor.