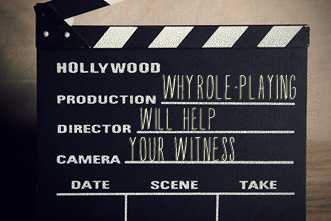 "Tim, someone is on the phone with a Bible question."
I looked up from my desk at the Credo House. My brain started to switch into this neutral position, trying to be prayerfully ready for the person on the other side of the phone to take the conversation in any of a million different biblical directions.
"Hello," I said, waiting for the person to respond.
"Yes, I have a Bible question," the middle-aged man responded.
"OK, well I don't promise anything, but let's chat," I said in a way where I was trying to lighten the atmosphere.
Sometimes people call and they're very nervous talking about God or struggling with some issue that they feel ashamed of in their life. With no nervous laughter on the other side of the phone, I was interested to hear the Bible question.
In the next 30 seconds, I quickly sat up totally surprised at his next few statements. This man had obviously thought through every single word once I gave him the floor. His "question" was not a question, it was a rant. It was very clear he disdained the deity of Christ. This man used a deep voice I typically reserve for my dog when he's misbehaving. It was interesting hearing the voice directed to me; I feel sorry for my dog.
Nearly every sentence toward me during this initial "question" stage began by him saying, "Now, Tim, tell me how you can possibly believe Jesus is God when … ." This guy was not your average, run-of-the-mill person with a Bible question. I could tell this guy had enough Greek and Church History to be dangerous. I could also tell he was working off some major talking points that I thought were a bit weak. I waited for his rant to end, but I also started praying and pondering the next steps to take. Once there was a bit of silence, a dialogue returned to our conversation. My first response slid out of my mouth before I knew I had said it:
"Are you a Jehovah's Witness?" I asked.
"Yes, but that's not important."
"Have you called here before?" I asked.
"No, I have never called here," he responded with an impatient tone that I knew was making him frustrated that I hadn't responded yet to his very detailed question filled with theology, Latin phrases and Church History.
"Are you sure? You sound just like a guy that's called here a couple times over the last few years."