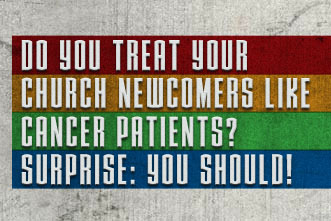 "Dr. Arn … your biopsy came back positive. I'm afraid you have prostate cancer."
I thought he must have been talking to someone else in the room. But we were alone … and the doctor was looking straight at me.
"Are you sure?" was all I could think of to say.
"Well, you are certainly welcome to get another opinion. But these biopsies are seldom wrong."
"So, now what?" I asked, which led to a 20-minute conversation about what this newly discovered disease was … how far advanced it might be … and what were the options.
To make a long story short, three months after the biopsy report, I had an IV in my arm and was being wheeled down the hallway at the City of Hope Medical Center to what would be a three-hour surgery (robotic-assisted laparoscopic radical prostatectomy to be exact). For those of you (men) who have been there and done that, I won't remind you. For those who haven't, I won't bore you.
But as I think back on the events of the past three months, I'd like to share with you what I learned from hospital staff, doctors, nurses and even patients at the City of Hope about being a newcomer. I realize that a cancer hospital may not be the first place you would look for insights on welcoming church visitors and new members.
But then again, maybe there are more similarities than we might think …
1. They anticipated my uncertainty.
Turning into the hospital driveway, I came upon a kiosk with a large sign: INFORMATION. I stopped, rolled down the window, and received a warm welcome from the man inside. I was given a brochure of the hospital, a map, a letter from the CEO and told of the complimentary valet parking for first-time guests.
Application question: What and where is the first contact you have with your newcomers? Do you control that contact and make a good first impression or just hope that it happens?
"First time?" I was asked by a smiling lady as I entered the lobby. It must have been my body language. I've been told that a good host can spot a newcomer a mile away.
"Yes," I responded.
She escorted me to the "Welcome Desk" where three people stood ready to help. After explaining that my wife and I were there to see a certain doctor, the host called a man over and told him where we needed to go.
Bill introduced himself as a volunteer and said, "Just stick with me and I'll show you the quickest way." I learned, in our hallway conversation, that Bill was an 11-year veteran who had fought and won the same battle in which I was now engaged. I felt an instant bond and wanted to ask him a dozen questions.
Application question: Do you have volunteers available to help guests find their way? Do you match newcomers with members who share things in common?