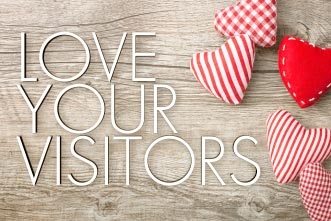 Dear children, let us not love with words or speech but with actions and in truth. 1 John 3:18
Imagine a person looking for a new church. They are new in town, lonely and want to connect. After an online search for local churches, perhaps they google the church website and then visit. They want to find out more.
The church proclaims, "We love people!" and the person is certainly in need of tangible love.
The person would like to find out more about the church, and at the service, someone briefly mentioned that small groups were starting and that it was a great way to connect. It sounded interesting, but many other things were mentioned quickly in the same announcement time.
Wanting to learn more, the searching person looks at the bulletin, the online newsletter and the website, looking for more information for the details on how to make a connection.
The bulletin had a very fancy graphic that said, "Be sure to join our small groups!"
The website had a new landing page under "Small Group Ministries" that had testimonies of people who loved their small groups.
The social media links said pretty much the same things—encouragements to be part of groups, but no connecting details.
The person received a generic note from the pastor telling the person how happy he was that they visited and various other friendly sentiments.
Why None of These Communications Are Loving
Not one of them communicated anything SPECIFIC about how to connect with a small group. They all gave tantalizing bits of information about the small group ministry at the church, but the underlying message was that if you were already part of the group and knew how to connect, the small groups were great.
If you didn't know—you could call the church office—but chances are you wouldn't get a real person to talk to and you many not want to leave a message and your contact information with strangers.
You might try emailing the church—but many churches don't answer their emails promptly, if at all.
Why This Happens
No one at any church intends to be unloving in their church communications. But it is so easy, without thinking, to assume that "everybody knows" about small groups or any other ministry of the church that has gone on for years.
But visitors don't know, and if you don't give clear information and detailed information in every channel and/or links to that information every time you mention an event, people will not know what is going on. No one can read your mind; no one knows the good intentions you have to involve people in any ministry if you don't clearly communicate it.