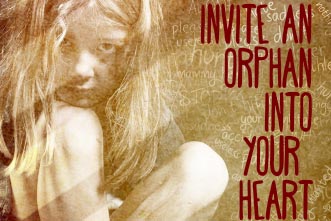 Maggie Jaruzel knew that God was calling her to be O'Neil's mom. She filed the paperwork, but when it didn't go through, she was undeterred. Whatever the government declared officially, she had already adopted O'Neil into her heart.
When O'Neil had a birthday, he knew that his mom would be celebrating back in Michigan. She sent money to pay for his education and came to visit when she could. He felt loved in the way that only a mom can love. Whatever the world might throw at him, he knew that she was in his corner.
Maggie sums up the relationship like this: "I've been his mom for the past 17 years, helping him grow from a lonely and troubled small boy into a confident, productive man of God. While the government has never granted him a visa to visit the States, we continue to share our lives."
When you see adoption from this angle, it removes the barriers that seem impossible. More of us need to make ourselves available to become a mom or dad to a child who never had one.
We're all familiar with the legal process of adoption. It begins with a couple deciding that they'd like to invite a baby into their family. They file the paperwork and, in the eyes of the state, have a new son or daughter.
But the act of adoption may be more of a spiritual act than it is a legal one. Two adults take one child into their family. They vow to protect and to provide for the child. They adjust their life priorities to reflect their commitment.
Somewhere in there, they complete a spirit-based transaction. They adopt the child into their heart. They bond with the child in the way that moms especially fall in love with their newborns.
The question is, does an adopting parent need to be in proximity to the child to engage in this spiritual transaction? And if not, when is someone mature enough to make that kind of a commitment?
I've heard too many adopting parents describe how they come to love their new child before he or she ever arrives home or before the paperwork is completed. The bonding mechanism is so strong that the spiritual act of adoption is completed long before the legal process finishes.
This is important because so many children need to be adopted, but the legal process so often gets in the way. Political considerations get in the way. Orphans grow up without parents, alone in the world, wanting love, but suffering from a continual love deficit.
Recent breakthroughs in communication technologies have started making it possible to adopt an orphan into your heart. Email and Skype enable would-be parents to connect with their son or daughter in ways that give shoe leather to their commitment.
Learning to Commit
How do you know if you'd qualify? The main thing is to recognize that, unlike other relationships, this is a commitment you can't walk away from. Recognize, we live in a low commitment culture. We may need to learn how to live a counter-cultural life.You can walk away from other relationships, but not from a son or daughter.
You walk out that commitment practically through prayer, through digital communication where possible, and by doing the kinds of things that a parent does.