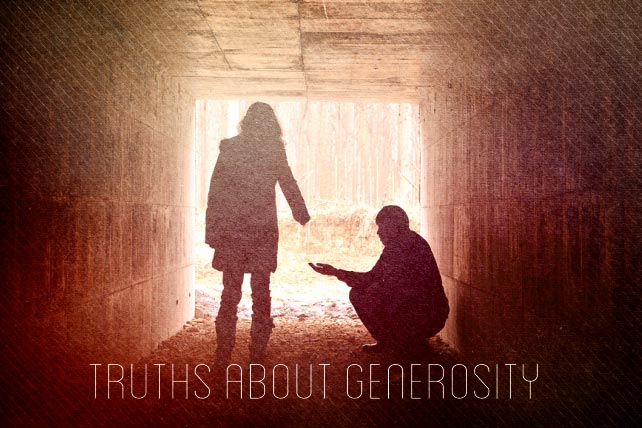 Generosity is a quality that all of us want to exhibit in our day-to-day lives. We love what generosity does for others, and we love what generosity does in our hearts. But we hate the tension. The war between needs and wants, enough and not enough, and what we have versus what others have creates a constant internal tension in our soul.
So how do we pursue the road to generosity and win the war within? In his second letter to the Corinthian church, the apostle Paul offers some wisdom. He points to the Christians living in Macedonia as an extraordinary example of generosity, and then provides three powerful insights.
1. Generosity Isn't Circumstantial
Most people view generosity in the context of how much money they make (or don't make). What's remarkable about the Macedonians' commitment to generosity is their ability to look past their own difficult circumstances. Second Corinthians 8:2 says that these early believers "are being tested by many troubles, and they are very poor." And yet, despite their adversity, they displayed a remarkable attitude: "But they are also filled with abundant joy, which has overflown in rich generosity."
If that wasn't enough, Paul takes it a step further. He describes their giving as going beyond what they can even afford. It wasn't because of a slick, manipulative tactic from a smooth-talking preacher, but rather, it was done out of "their own free will" (v. 3). Then Paul says:
They begged us again and again for the privilege of sharing in the gift for the believers in Jerusalem. They even did more than we had hoped, for their first action was to give themselves to the Lord and to us, just as God wanted them to do (v. 4-5).
What would happen if our generosity stemmed from a selfless attitude rather than sorrowful adversity? That was the approach the Macedonians took. Generosity wasn't defined by their circumstances, but rather a guiltless, joy-filled, passion to give. These believers understood the priority of generosity. They recognized that the priority of your money always determines the path of your heart. That's what Jesus taught: "Where your treasure is, there the desires of your heart will also be" (Matthew 6:21). When you're tempted to point to your circumstances as the excuse for not being generous, reconsider Jesus' words and the Macedonians' example.
2. Generosity Moves Beyond Eager Feelings
After pointing to the example of the Macedonians, Paul shifts gears and challenges the Corinthian church to practice generosity, not just feel generous. He writes:
So we have urged Titus, who encouraged your giving in the first place, to return to you and encourage you to finish this ministry of giving. Since you excel in so many ways—in your faith, your gifted speakers, your knowledge, your enthusiasm and your love from us—I want you to excel also in this gracious act of giving. I am not commanding you to do this. But I am testing how genuine your love is by comparing it with the eagerness of the other churches. You know the generous grace of our Lord Jesus Christ. Though he was rich, yet for your sakes he became poor, so that by his poverty he could make you rich. Here is my advice: It would be good for you to finish what you started a year ago. Last year you were the first who wanted to give, and you were the first to begin doing it (2 Corinthians 8:6-10, NLT).
Notice what Paul does. He begins by commending the Corinthians for excelling in faith, knowledge and love. About the time they're feeling good about themselves, Paul ups the ante. He says, "I want you to excel also in this gracious act of giving." In other words, don't get comfortable in your faith. Don't point to your success in one area and quietly ignore how you should be growing in another area. Keep stretching, keep growing.
Then, as if the Macedonians' example wasn't enough, Paul points the Corinthians to the example of Jesus. He reminds them that because of everything Jesus has done for us—his extraordinary grace, love and sacrifice—shouldn't we be compelled to give generously so that others can experience His amazing grace too? With that tone, Paul lays down this charge:
"Now you should finish what you started. Let the eagerness you showed in the beginning be matched now by your giving. Give in proportion to what you have" (2 Corinthians 8:11, NLT).