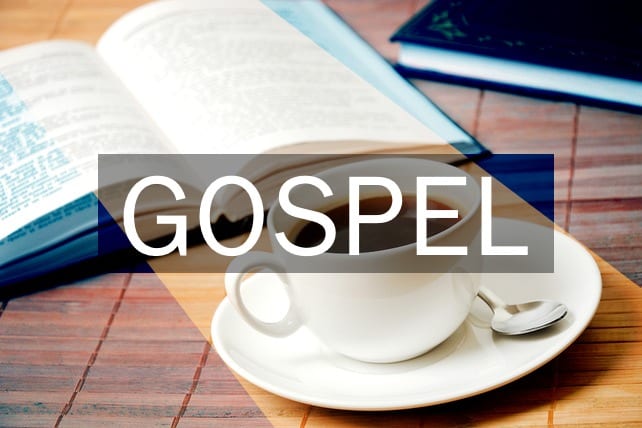 I'm not an evangelist.
I'm not bold. I regularly pray for boldness, but I usually chicken out when I have an opportunity to say something. I especially don't like "cold call" evangelism—going up to strangers and trying to engage them to share the gospel with them. What's a chicken-hearted weakling like me to do?
I was recently stirred when a brother shared at fellowship group how he got saved. He said that when he was in college a friend of his met with him weekly over coffee and they read through one of the Gospels together. They met week after week, reading at a leisurely pace, stopping to discuss any questions my friend had. It was low-key, no pressure, and my friend believed in Jesus along the way.
Not only that but it involved coffee!  
I've also been stirred recently by reading the Gospel of John—in it the word "believe" is mentioned 100 times. John tells us his purpose in writing his book in Chapter 20:30-31:
Now Jesus did many other signs in the presence of the disciples, which are not written in this book; but these are written so that you may believe that Jesus is the Christ, the Son of God, and that by believing you may have life in his name.
The purpose of the book of John is to help people BELIEVE. When we BELIEVE in Jesus' name—that Jesus is God the Son, the Christ who became man, died for our sins, rose from the dead and ascended into heaven—WE HAVE LIFE! So when people read through the book of John they'll see Jesus' miracles and read his own words about his identity. And many will believe. So I prayed, worked up some nerve and called a guy I met recently and asked him if he'd like to read through the Gospel of John together. He said yes! So we've started meeting for coffee and reading through the book together.
What I love about reading through John with someone is that it's low-key and non-threatening. I don't feel like I have to convince them by my brilliant arguments—John does all the talking for me. John is telling my friend about Jesus. And John presents a full picture of Jesus, which you can't do in a brief presentation. The gospel is like a seed. It takes time to germinate, take root and grow. The more truth we have about Jesus, the more likely faith will grow in our hearts. That's the advantage of slowly going through John.
Maybe you have a friend or family member that you are not able to meet with. But they might be willing to read through the Gospel of John. There are many booklet-sized versions of the Gospel of John. Here is a link to the ESV version, which you can get at Crossway for $1.79. So if you can find someone who will go through it with you, it will cost you $3.58 for two copies, plus coffee. (Treat your friend).
Is there someone you can think of that might be willing to meet with you and work through the Gospel of John together? Consider praying about it and giving them a call. The worst thing that could happen is they could say no. But they might say yes.