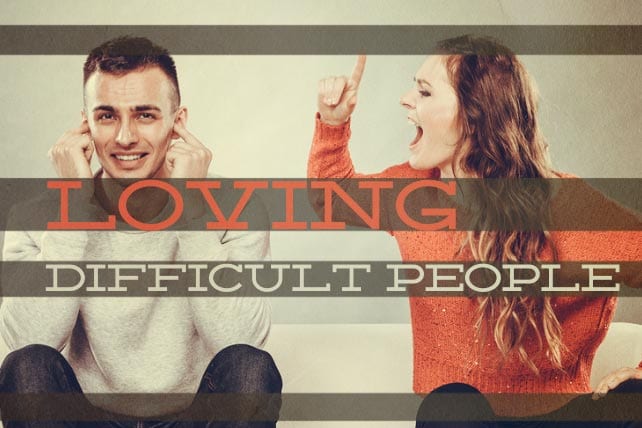 It was only a three-minute escape. Listening to my name being chanted over and over, louder and louder, with greater urgency, along with pounding on the door, you might imagine me to be a rock star.
But in reality, I'm the mother of a toddler who has decided he is only content when he is in my arms. My escape was merely a trip to the bathroom in which I took a deep breath behind the locked door before re-entering my world of diapers, blocks and Daniel Tiger. And even though I love this little guy with all my heart, at times he can definitely be a difficult person to keep showing love to, especially in the midst of tantrums and tears.
Difficult People Are Everywhere
It probably isn't hard for you to think of a difficult person in your own life. In our broken, sin-filled world, they are everywhere. The co-worker who is willing to do anything to get ahead, including taking credit for your ideas. The in-laws who always seem to be peering over your shoulder, critiquing your parenting skills and offering "suggestions" for improvement. The child who knows exactly how to push your buttons to leave you exasperated and flustered again. The person in your ministry who is constantly complaining about your leadership, who thinks he has better ideas and communicates them with a sharp and biting tongue. The passive-aggressive friend who is kind one moment and gives you the cold shoulder the next. The list can go on and on.
So what do we do with these people? With constant strained relationships? Our natural tendency is to want to run the other way, to avoid them as much as possible. But is that what honors God in these hard situations?
Difficult People Have Been Around Forever
Moses was no stranger to leading a group of difficult people. Even after rescuing them out of slavery and leading them safely away from the Egyptians, the Israelites were not happy with him. Instead of being grateful for their new freedom and provision from God, they were shedding tears over the menu (Numbers 11:4–6) and complained to God about their brother and his Cushite wife.
Yet what amazes me about Moses is that he didn't retaliate against this annoying group of people. He didn't even defend himself against the harsh accusations. Instead, he demonstrated amazing humility and compassion on those he led, repeatedly interceding for them.
Moses pled with God to heal Miriam's leprosy (Numbers 12:13). He lay prostrate before God, fasting 40 days and nights after Aaron and the Israelites had made the golden calf to worship (Deuteronomy 9.13–18″ data-version="esv" data-purpose="bible-reference">Deuteronomy 9:13–18).