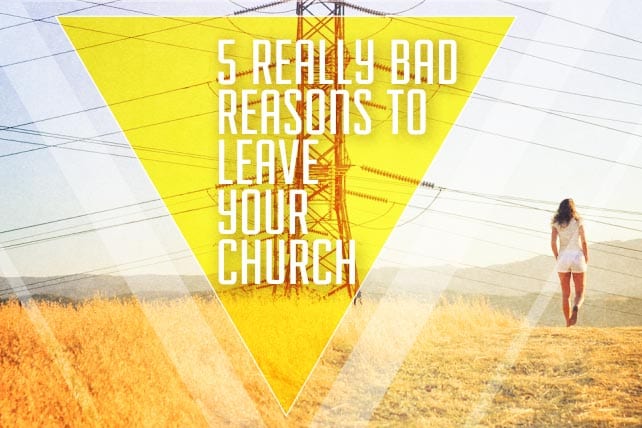 Let's be honest, while there are some good reasons for leaving a church, there are a lot more bad ones. As a pastor, I hear some of them every now and then as people walk out the door. As a church planter, I hear them constantly as people walk in the door. If you're thinking about looking for a new church home, please don't use one of these five reasons to make the jump:
1. "I'm not being fed."
Do pastors have a responsibility to steward the scriptures and care for their church spiritually? You bet they do. And it can be all too easy to overlook this while trying to manage staff, build systems, meet needs, put out fires, develop leaders, all while overseeing the overall vision and direction of the church. But let's be honest, if you own a smartphone, a personal computer or a library card, you have access to some of the best preaching and teaching in the world. Shoot, you can even find teaching archives of some of the greatest preachers of all time. Christian, you have access to more "meat" than any other generation before you!
To leave a church because you're not getting enough substance is a cop out. Your primary call in the church is to contribute, not just to consume. As a Christian, you shouldn't require spoon-feeding for the rest of your life. Eventually you need to learn how to feed yourself so that in time you can actually feed others. Remember your call is not just to be a disciple but to make disciples.
2. "It's getting too big."
I can appreciate the sense of loss that accompanies growth. When we first began, our church was little more than a small band of brothers and sisters meeting together in a living room. It feels very different now that we are a church of a few hundred people spread across multiple services. There are moments when I miss the intimacy and simplicity of those early days. But remaining small is a sad and unbiblical goal.
When churches are faithful to the Great Commission lives will be changed and people will be added to their number. It may not happen rapidly, but on a long enough timeline, growth is inevitable in churches that are faithful. If you have a problem with big churches, you really wouldn't have liked the first church and you definitely won't like heaven. To be frank, if you have a problem with the inevitable growth that happens when lives are changed by the gospel, you have some serious repenting to do.
3. "I don't agree with everything that is being preached."
You know what? Neither do I and I'm the pastor. As such, I fully reserve the right to disagree with myself. And every now and then I do exactly that. Why? Because I'm learning. I'm growing. I'm asking questions. And my hope is that those I pastor are doing likewise.
If you insist that your pastor agree with you on every little thing under the sun, you are going to either hop from church to church for the rest of your life in perpetual disappointment, or you will eventually give up and drop out altogether. Chances are you are not going to agree with everything that is preached anywhere. As long as your pastor isn't preaching outright heresy, you can afford to disagree on secondary issues. The truth is when you choose to stay despite disagreeing on some things, you, your pastor and your church are better for it.