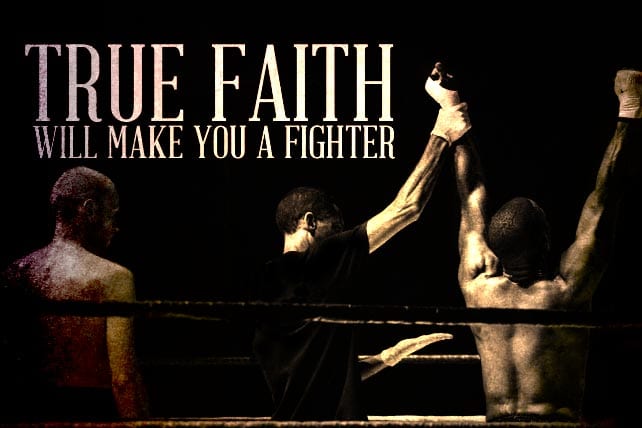 Growing up, I wasn't much of a fighter. Despite my disposition, my big mouth and stubbornness placed me in situations where I had to defend myself. I fought in the classroom, in the hallway, on the school bus and even at the bus stop. A part of me would love to report that I was the undisputed, undefeated champ in my home town—but it would be a lie.
I had a small problem. I was often on the receiving end of punches because I was a passive fighter. I rarely threw a punch and anxiously awaited the end of the fight. As a fighter, I didn't have a wartime mentality.
I didn't want to suffer through a long and hard fight, so I gave into my opponent and would try to restrain him until he calmed down. It rarely worked. This mentality is common among professing Christians in how we engage sin. But this mindset is inconsistent with biblical Christianity. True faith will make Christians fighters.
Preservation Produces a Wartime Mentality
Once saved, always saved.
The phrase is meant to communicate that once we become Christians, we will always be Christians. When I became a Calvinist, I assumed this statement summed up the doctrine of Perseverance of the Saints. The phrase is accurate but fails to paint a full picture of perseverance of the saints due to its passive undertone.
Easy-believism in evangelicalism exposes what many take this phrase to mean. The impression was that, because certain people walked down the aisle and prayed a prayer, they were Christians—eternally secure, regardless of what their lives looked like. John Piper explains what we mean by Perseverance of the Saints:
We believe that all who are justified will win the fight of faith. They will persevere in faith and will not surrender finally to the enemy of their souls. This perseverance is the promise of the new covenant, obtained by the blood of Christ, and worked in us by God himself, yet not so as to diminish, but only to empower and encourage, our vigilance; so that we may say in the end, I have fought the good fight, but it was not I, but the grace of God which was with me (2 Timothy 4:7)." (Five Points, 16)
The reality of this doctrine at work in our lives produces a wartime mentality. That is why Scripture continuously exhorts us to fight and warns us of what will happen if we don't:
• "Strive for peace with everyone, and for the holiness without which no one will see the Lord." (Hebrews 12:14)
• "If you live according to the flesh you will die, but if by the Spirit you put to death the deeds of the body, you will live." (Romans 8:13)
• "Now the works of the flesh are evident: sexual immorality, impurity, sensuality, idolatry, sorcery, enmity, strife, jealousy, fits of anger, rivalries, dissensions, divisions, envy, drunkenness, orgies and things like these. I warn you, as I warned you before, that those who do such things will not inherit the kingdom of God." (Galatians 5:19–21)
We're commanded to suffer through long and hard fights with sin and temptation without giving up or forsaking Christ. We're called to pursue holiness that is characterized by repentance and faith.
The doctrine of perseverance doesn't just promise the believer's survival; it guarantees that Christians will fight until the end.