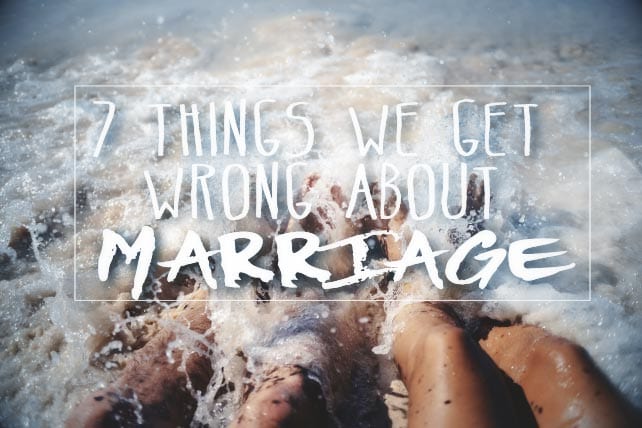 There's been been a lot of talk about marriage lately.
From reality TV shows like The Bachelor and Couples Therapy to posts gone viral like "Marriage Isn't for You." From the secular world to the Christian subculture, one thing is certain: We love to think about, to dream about and to talk about marriage, and we almost always have something to say.
It makes sense that we love to talk about marriage. There's nothing so profound and mysterious as this covenant relationship between a man and a woman, an earthly glimpse of the vast affection of the love of the Heavenly Bridegroom for His Bride. We love to talk about marriage because we were made to talk about it—in the sense that we were made in the image of a God who designed us to love and be loved.
But within the buzz of all the chatter, we may have gotten something wrong. When all the smoke and lights of opinions and ideas begin to fade away, we're left with the jolting reality that calls us to question what marriage really is. Because if marriage is what we say it is, why does its foundation sometimes seem so cracked? How do we explain the brokenness, the divorce rates and the struggles we see all around us in real life?
Though I don't claim to know the answers, my life experiences and career as a professional counselor have challenged me to question that maybe there are some things about marriage that we seem to be getting wrong:
1. We don't fully commit to the selflessness that marriage involves. I know I'm not the first person who has experienced this reality check. I've never been faced with more internal selfishness than I've experienced within the context of my marriage. It's easy to give up on marriage when we see it as a place to come and be served, loved and wanted rather than a place of giving service, of serving and laying down of rights. May God continue shifting our perspective of what it means to give of ourselves.
2. We don't take personal responsibility: Who we are and the baggage we carry. Most of us will blame our marriage problems on our spouse, but truth only comes when we can face our own junk—and deal with it. Marriage is a series of actions and reactions, and we are always responsible for one of those. My favorite line from Paul Tripp reminds me that "I am my biggest marriage problem." That's a hard pill to swallow, but one that frees us to truly change, to truly grow and to truly love.**
3. We assume the word "Christian" automatically means compatible. For those who are in a dating relationship, don't be fooled. The word "Christian" isn't a label or a title that automatically makes someone good for you. True faith in Christ is a way of life that defines every part of our reality and affects every aspect of life. Don't get caught up with the title alone, but marry someone who evidences Christ with how they live their life.
4. We get caught up in finding the one instead of becoming the one. I can't seem to talk about this one enough (hence the entirety of section 1 in my book True Love Dates). If we are to take responsibility in our marriage, it comes down to taking responsibility while standing alone. One thing we get majorly wrong about marriage is that we simply neglect to prepare for it during our time of singleness. If healthy people make for healthy relationships, then we owe it to ourselves to be where we need to be right here, right now. Whether that be in our marriage or during our time of standing alone.
5. We forget that real love is so much more than a feeling  Love is an action word. It calls for patience, kindness, humility, selflessness, gentleness, self-control, forgiveness and so much more. It forces us to act, not just to feel. I think we go into marriage with so much feeling intact, not believing that feelings will fade. And when they do, it sends us into panic mode, wondering if we've made the right choice, if we've married the right one and what to do next. If you're wondering what to do next, the next best step is simple, and profound, because the next best step is to love.
6. We go into marriage assuming that our spouse has the power to read our minds, heal our hearts and fill us up. One thing we get wrong about marriage is the expectations we have going into it. I'm an idealist when it comes to relationships so I get this tendency and have done it myself. We should always expect good things of our marriages, but we should never expect ALL things of our marriages. Did you hear that? There are so many things a good marriage can do, but there are so many things that only God can do. We need to take our spouses off of the god-pedestal, remember our humanity and interact with each other using nothing less than tons and tons of grace.
7. We think that marriage is about us, failing to realize how much it is really about God. The beauty of marriage in all its glory can only be seen as it's held up against the ferocious love of God. We mess this up often by trying to do this marriage thing outside of God's design and purpose. We forget to reflect Him, and to see Him reflected in one another. We fail to prioritize Him, and make our marriage about us—instead of about Him. The best marriages I have ever seen were devoted to the reality of God's bigger story for their lives and relationship. Marriage becomes so small when it's all about us, but so spectacular when it's bound to His glory. There is absolutely no way around it.
I don't claim to have all the answers—and I never will. But personally, I am praying that God continues to transform my heart and my expectations of marriage so that I can be opened to experiencing and enjoying the gift of marriage the way God intended it to be received: Til death do us part.  
May God give us the strength to take back the things that we've gotten wrong with marriage and, by His grace, help us to make them right.   
If you liked this article, give this a read as well: 10 Secrets You Should Know About Marriage. 
Debra Fileta is a professional counselor, national speaker and author of the book True Love Dates: Your Indispensable Guide to Finding the Love of Your Life. You may also recognize her voice from her 100+ articles at Relevant Magazine or Crosswalk.com! She's also the creator of this True Love Dates Blog, where she writes candidly about dating, relationships and how to find true love. Connect with her on Facebook or Twitter! 
Additional Resources:
1. Are you ready for Love? Take my FREE Quiz right now to find out! 
2. Want to learn how to date in a healthy way that will help you find and keep love? Check out my book True Love Dates: Your Indispensable Guide to Finding the Love of Your Life! Plus, read the Top 25 Dating Questions of All-Time answered in Section 4!!
3. The #1 Mistake singles reported making last year was not taking a risk to start a relationship! Why do Christians tend to be so passive when it comes to relationships? Join hundreds of other singles and take a course that will teach you the top lessons I've learned in my career as a relationship counselor, and totally change your love-life in 21 days! Learn more: 21-Day Program to Jump Start Your Love-Life!