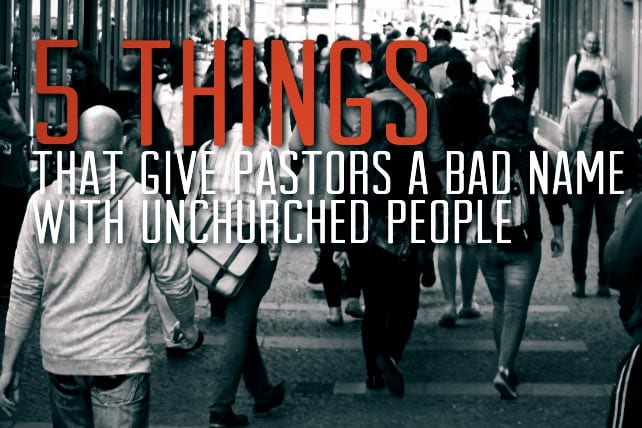 I've been a pastor since I was 30 years old, but even now, I still don't really like telling people what I do.
I have a heart for unchurched people and am always trying to find a way to build bridges and tear down barriers. But I feel like telling people I'm a pastor or lead a church almost automatically creates a barrier—a barrier that seems to grow with every passing year.
Maybe it's just me, but I always feel there's a funk associated with the idea of being a pastor that might be a combination of
Confusion … I've never actually met anyone who works at a church (that's especially true in an unchurched country like Canada, where I live).
Suspicion … So what's the deal with all those church scandals, and are you in any way related to them?
Irrelevance … So what exactly would you do all day or why on earth would your organization exist?
Pity … You really couldn't do anything else with your life?
It's easy to point your finger at high-profile pastors who fell or who have given the church a bad name, but that lets the rest of us off the hook too easily.
Sure, we can use the negative association to vision cast and correct assumptions (and I try to do that), but what if pastors had a good name in most communities?
So let me ask a pointed question: Is there anything you or I do—as regular, average pastors—that hurts rather than helps the cause of the local church?
I think so. This matters because the more we become aware of them and address them, the better we'll become at fulfilling our mission.
Five Things That Give Pastors a Bad Name
Please hear that I love the local church. And I love local church pastors.
The vast majority are hard working, mostly underpaid, sincere people who really love Jesus and want to make a difference.
But our blind spots can be our worst enemies. Identify them, and suddenly you can be more effective.
So here are five traps I try to avoid as a local pastor who loves the church and loves the people we're trying to reach.
1. Speaking weird
I started to fall into this trap early in my ministry, and realized I had to correct it right away.
If you speak in code, you'll have a hard time connecting with unchurched people.
If you find yourself saying brother, sister, amen, fellowship, tribulation and the like, it tends to bring less credibility to what you do.