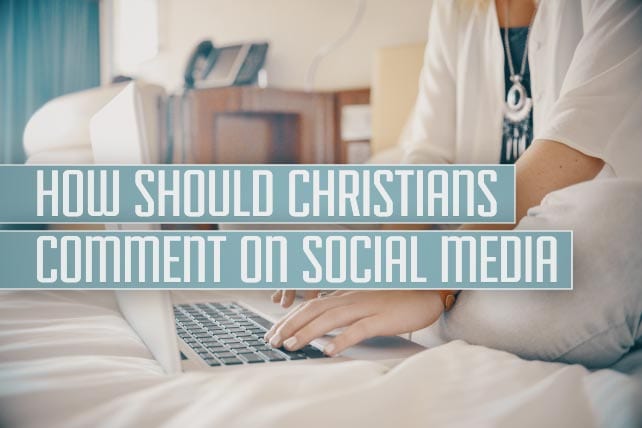 Reading people's comments online is an interesting and sometimes troubling study in human nature. And reading comments by professing Christians on Christian sites (as well as other sites) can be a discouraging study in applied theology.
The immediate, shoot-from-the-hip nature of comments on websites and social media is what can often make them minimally helpful or even destructive. Comments can easily be careless. That's why we must heed Jesus' warning: "On the day of judgment people will give account for every careless word they speak" (Matthew 12:36). This caution makes commenting serious business to God.
How Should We Comment?
Seldom: "When words are many, transgression is not lacking, but whoever restrains his lips is prudent" (Proverbs 10:19).
The Bible counsels us to restrain our lips (which in the 21st century includes thumbs) because a fool has many words (Ecclesiastes 5:3). Perhaps our opinions aren't needed after all.
Slowly: "Let every person be quick to hear, slow to speak, slow to anger" (James 1:19).
If an article or post makes us angry, we should almost never write in the heat of irritation. In that frame of mind it is very difficult to "be gentle [and] show perfect courtesy toward all people" (Titus 3:2). It is best to wait and pray. An hour or a day will likely yield a more gracious comment, if one is needed at all.
Graciously: "Let your speech always be gracious, seasoned with salt, so that you may know how you ought to answer each person" (Colossians 4:6).
All things that are said outside of the Bible by fallen humans, especially quickly written social media updates, are limited, deficient and defective. And all of us read things through the filters of our experience and perspective. We all say and interpret things wrongly. Therefore, we can be gracious and patient, seeking to assume the best of people.
When Should We Comment?
For the Christian, the purpose for speaking anything to anyone at anytime, whether with lips or hands, is "that it may give grace to those who hear" (Ephesians 4:29). So if we discern that we should comment on someone's post, our motive should be to give them grace. When we do decide it would be good to comment, here are a few suggestions of ways to give grace:
Thank: Giving thanks may be the best and most frequent reason we should comment. If a writer increases our understanding or encourages our souls or helpfully exhorts or warns us, expressing our gratitude is appropriate for us and life-giving to the writer. The piece doesn't have to be perfect. If we're helped, we can thank; if we're not helped, we can say nothing.