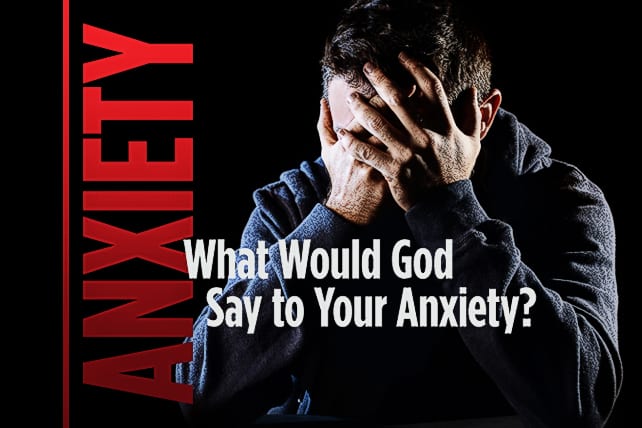 We all know anxiety well.
It comes with most trials and heartache. It rises when opportunities fall through. It speaks up when I'm at a loss for words to comfort my wife, or when that unexpected invoice pings my inbox, or when I turn on the news to witness another heartbreaking story of injustice. It's easy to be paralyzed by my current "newsfeed" of reality, and forget everything I know to be true.
When anxiety strikes, we often resort to navel-gazing—the act of "self-indulgent or excessive contemplation of oneself, or a single issue, at the expense of a wider view." Instead of trusting God's promise to provide with ever-arriving waves of grace, I am prone to enshrouding myself in a cloud of needless concern. And that anxiety blinds me to reality. I trade the "wider view" of God's faithfulness in exchange for the empty promises offered by self-pity, worry and doubt.
Fortunately, the Bible has something to say to anxious hearts. As a child of God, you have a jaw-dropping past, an infinitely compelling future and a rock-solid reality to stand on without fear or worry in any circumstance.
What Would God Say: Look Behind You
When it comes to hope in the midst of struggle, God calls us to be a remembering people. If you spend even 15 seconds gazing into your own past, it will begin to sparkle with ten-thousand mercies reflecting off the waves of those memories (Lamentations 3:22). The sea of past grace dwells here, and welcomes us to come and drink, and remember as often as we need to. You could easily spend a week reliving and remembering God's many special provisions that came later than you wanted, but at just the right time.
Look further back along the waves and see the unshakable pillars of our hope in Christ. See Immanuel, the light that dawned upon and drew near to the weary world (Matthew 1:23). Look upon his life, perfectly lived, poured out as a living sacrifice for you. See the pinnacle of God's glory and our great hope at the cross (Hebrews 1:1–3). Look and believe again in the resurrection. Look at the ascension, and the inaugural reign of Christ, as he sat down at the right hand of God the Father.
Look further still and see the faithfulness of God to his people throughout every "stiff-necked" and "rebellious" generation in history. See him leading with a cloud by day, and, by night, a pillar of fire (Exodus 13:21–22). Every one of your days was written down by God before the foundation of the world.
How much less would we worry if we drank these waters down daily, building up in our hearts a storehouse of ready defenses against the onslaughts of anxiety and unbelief?