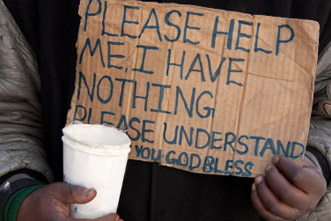 I realize society has dealt with poverty since the beginning of time, but I still am young enough to believe the church can do something about it. According to the U.S. Department of Agriculture, hunger is at a high point with one in six families going hungry this past fall (49 million people). The New York Times reported in August that unemployment for men under 35 may be at the highest rate in 61 years! The homeless count, though difficult to track, is off the charts (article from Guardian.co.uk).
Below are some things our church is doing to help. Items 1-4 are more general in nature, and items 5-8 specifically deal with empowering volunteers to fight poverty. I would truly would love to hear your feedback! Help the rest of us figure out how to break the vicious cycle of poverty in our country. Here are 8 Ways Your Church Can Fight Domestic Poverty:
1. Fight spiritual poverty. One of the best places your church can start is by helping people who are spiritually broken. I believe spiritual poverty is the root cause of all other forms of poverty. Help people understand that they have hope and help them meet and grow in Jesus, and many times, the other pieces will begin to fall into place for them.
2. Educate the young. Empower young children to be successful and get an education. Give them a chance to be the first in their family to graduate high school and go to college. Our church is currently working with 40 volunteers to figure out how to help high-risk students at a local elementary school. Most of the kids are stuck in a vicious cycle of poverty. One by one, we are helping them get an education.
3. Be a voice for those that don't have a voice. What platform do you or your church have? Is it one of influence? Millions around the world have no platform, no voice. Be the voice they need. "Speak up for those who cannot speak for themselves; ensure justice for those being crushed." Proverbs 31:8
4. Meet needs, but teach personal responsibility. Instead of just giving away meals, teach on parenting, help someone find a job, ask questions that will help. Coach people into becoming more responsible. Help them find the resources they need until they can become more independent. Realize that many cannot become independent without some significant help. Don't put conditions on what you do to help (you won't give someone a meal unless you get to teach them something). Just keep this in mind as a goal you would like to accomplish.
5. Empower your people to believe in someone else. Often, a person has never believed in themselves enough to get out of a tough situation. Not only do they not believe in themselves- neither does anyone else. Let them borrow the faith of your church for a while. Encourage those you believe to believe in someone else. Start by believing in those you lead! Believe in them until they can believe in themselves. Tell them what you see in them. Encourage them. Show them the love they may have never had. Then ask them to go and do the same with others in the community!
6. Partner with those already fighting poverty. Chances are there are dozens of well-established organizations in your area that are fighting poverty and doing it well. Find out who they are and see what type of help they need. Ask how long they have been established, what their objectives are, and what you can do to help. Then dig in and get dirty!
7. Be aware, so you help your church be aware. Get out of your own little world and look around, then help those you lead to do the same. You'd be amazed to see what needs are out there! Read the paper, get news apps on your phone, whatever you can do to become more aware of what is going on. My two-year-old daughter prays for the people that "sleep in trees" and "don't have food in there refrigerator" simply because we get out of our house and try to open out eyes to the realities in our city. You can become aware, too, then you can help your church become aware of what needs are out there.
8. Help people discover their vision and passions. Don't just tell those you lead to look for an organization where they can serve. Help them first discover their life vision and passions. (We use a tool called Chazown.com.) This passion will fuel them over the long haul as they serve the community. What do they value? Is it family? Help them serve to build up families. Is it injustice? Help them by partnering with someone fighting injustice. Are they good at tutoring? Help them connect with a local school.
All right, help the rest of us broaden our perspective. Do you or your church resonate with any of these? What other thoughts do you have? What else can the church do to help fight domestic poverty?