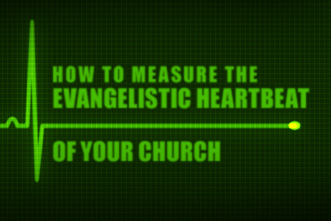 When God looks at His bride, the church, He longs for her to have a healthy heartbeat. He wants our hearts to beat with His love for the lost, and He longs for evangelistic passion to flow through our veins. The Maker of heaven and Earth wants to see each and every church alive with love for the lost and engaged in reaching out with the message and grace of Jesus in natural, organic ways.
God wants to draw people into our fellowship with the assurance that they will be embraced by grace and introduced to the Savior, Jesus. But this can happen only when the people in our church are deeply in love with God.
When we are, our heartbeat is strong. When we do not love God, it is difficult for us to love others. As God looks at the spiritual monitor that registers the evangelistic heartbeat of a church, He sees one of several different patterns. What do you think God sees when He looks at your church?
FLATLINE
Some churches have a loud, high drone and a flatline on their heart monitor. There is no love for God, nor is there a relentless love for the lost. These churches are closed off to visitors, their community, and the world. They don't reach out or train their members to share Jesus' love.
Prayer for their community is nonexistent. There was a heartbeat at some time in the distant past, but today the church is flatlining.
If this describes your church, don't lose hope! We believe in a God who can raise the dead. Heaven is watching your church's heart monitor, and the Spirit of God is always ready to send a pulse of heavenly energy into your congregation's heart to bring it back to life. God is ready to return your church to her first love, Jesus Christ. And the Holy Spirit is ready to move your church from apathy to passion.
WEAK PULSE
Sometimes when a doctor checks for a pulse, he'll say, "I have a pulse, but it's weak." There is still life in the body, but action needs to be taken quickly to sustain it.
Many churches have a pulse and there is life, but it's faint. There is love for God and for people, but it is waning.
If this is a picture of your church, be honest and admit it. You might have a map on a wall somewhere with several pins showing where you send money to support missionaries. You might do an event or two each year that "spiritual seekers" are welcome to attend. You might even try to be friendly if a guest or visitor happens to wander into your church on a Sunday morning.
But honestly, your passion for outreach is gone.
Your church lacks a desperate love for God that will drive you into the world with His good news. You are nice to people who visit your church, but you don't go out of your way to reach those who are far from God. You send money overseas, but you don't engage the mission field right next door.
If this describes your congregation, you too need to fall in love with God—Father, Son, and Holy Spirit—all over again. Yes, you still care. You love God, and you love people. But it is time to rehabilitate your congregation's heart.
You might need to do some spiritual exercise and fortify your heart to make it beat strongly again. The heart is a muscle, and if you use it, it becomes stronger.