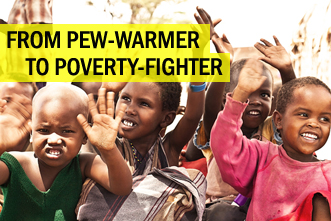 In The Unlikely Missionary: From Pew-Warmer to Poverty-Fighter, Dan King shares his journey of risk, courage, and hope as he responds to God's call to serve those in need. He calls himself an unlikely missionary because he is not a pastor or nonprofit leader – just an "ordinary" Christian who wants to serve God faithfully. In The Unlikely Missionary, King encourages those of us who see ourselves as "ordinary" Christians to find passion and purpose in the extraordinary call of God.
CL: What led you to write The Unlikely Missionary? Who do you hope to reach with this book? What kind of impact do you hope to see?
Dan: I wrote it because I knew the work God was doing in me has the potential to change other people as well. My goal is to help people break away from the bondage of lukewarm Christianity. Yeah, I said bondage. I believe that too many people come to church every week, smile at a few people, sing a few songs, and leave proud of themselves because they stayed awake through the entire sermon. Many of us even serve within the church. We help in the nursery when asked; we help at VBS or serve on the usher team. And those things are important. However, we get stuck in that rut, leave the church after the service, and the world isn't changed in any way. My hope is that people can use my stories and perspectives to help them find something to ignite their faith and leverage that passion to change the world in the name of our God.
CL: How did you see God already at work in Kenya and Uganda?

Dan: I was really surprised by this. I met pastors and ministers who were more than just the spiritual leaders in their communities; they were directly involved in economic and community development. God was using these men and women to support microfinance groups and job creation plans. They are running schools, medical clinics, and filling any other void in their community. But I also met regular people who were doing incredible things like helping child soldiers rehabilitate into society.
There are lots of people there doing amazing work, and if I'm completely honest, I think I was expecting to walk into a spiritual void. It didn't take long to calibrate with the reality over there and learn that I wasn't bringing the Savior to a lost people group. Rather I was joining the work that God was already doing. I think many of us in the United States get that sort of superiority thing going, thinking that we have it all right, and we can bless them by bringing the answers they need. Boy, was I wrong! The people there blessed me more than I ever could have imagined.
Exclusive churchleaders.com Free eBook: Download Dan's book, The Unlikely Missionary: From Pew-Warmer to Poverty Fighter.
CL: In what ways did God surprise you through your experience in Kenya and Uganda and when you returned to the States?

Dan: I thought it would be nice to get back to the comforts of home, but I struggled for a while with guilt. It was difficult to come back to a culture of abundance and careless wastefulness. I remembered how little so many people had in the places that I visited, and the simple act of going to the grocery store became overwhelming. But also, I was surprised over time at how much this stuff became a central part of my life.
The experience certainly changed my whole family and me, and we now make it a priority to seek out opportunities to bless others who are not as fortunate as we are. In fact, my son held a yard sale to help fund a playground project for orphans in Haiti. This one trip has helped my family reconsider what's really important in life and how we engage the world for the sake of Christ.
CL: What would you say to someone who wants to serve God and those in need, but might feel like they're not qualified or aren't able to travel?
Dan: I deal with that question deeply in my book because it's my story. I'm the guy who doesn't have the theology degree or the big-time position that gives me the credentials that many of us expect to have before we feel qualified. The truth is that God isn't looking for credentials; He's looking for willingness to be used. That's why in the book I challenge people to do small things that collectively can make a big difference. And travel isn't important either.
For me, the journey took me to Africa, but it's just as important to be doing the same kinds of things with the homeless people downtown in our own cities or working with kids at the Boys' and Girls' Club or pouring out the love of Christ on co-workers. The good news is that we all can (and should) be doing something. All we have to do is be willing and open our eyes to the opportunities.
CL: What are some of the most common obstacles you've seen holding back everyday Christians from joining in God's redemptive work in the world? How would you respond to them?
Dan: Sometimes, I think it's the Bible that can get in the way. That statement will likely get me in trouble with some people, but I'm serious. I think sometimes we look at passages like Ephesians 4:11 (the five-fold ministry) and think that the focus of a passage like that is on the positions that Paul mentions. As a result, we've become a personality-centered church who waits on the pastor or the teacher or the prophet to lead the way. But as I read the rest of that passage, I see that the purpose of these roles is essentially to support the rest of us to do the work of the ministry. But right now, most people don't feel qualified because they aren't in one of these jobs. We've got to flip that perspective around and as church and ministry leaders lift up the people to encourage and empower them to lead the way. And that brings me back to that first question about why I wrote The Unlikely Missionary…in the hopes that it would encourage and empower people to flip the whole world upside down.