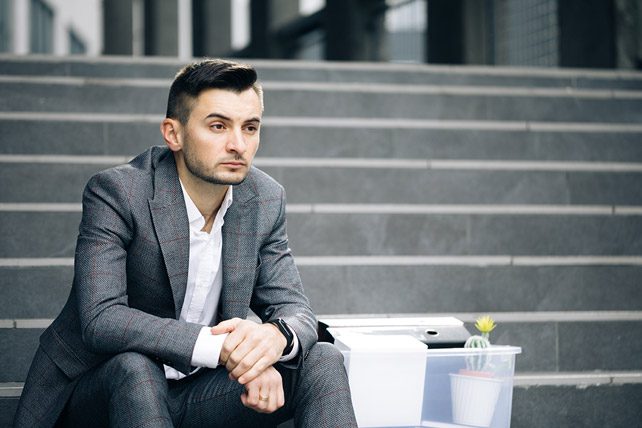 It was a Friday morning. Good Friday morning to be exact. I'm going to use that as a metaphor for the job-loss-to-new-future journey. Allow me a quick explanation.
In the Christian tradition, Good Friday is the day followers of Jesus remember his suffering and self-giving, for them and for the world. It's the international, transhistorical, once-and-for all-time holiday… of loss. It happens right before Holy Saturday, the international Day of Bewilderment. It's the day the disciples of Jesus are in stunned disbelief, their Hope is cold and dead in a tomb, and their faith is just shy of its own death. They are quietly, reluctantly, figuring out how to move forward. Some even may have begun to believe something good was going on; they could feel trust flickering in their hearts. Easter Sunday, when Christians celebrate the resurrection of Jesus, and the birth of Hope eternal, is the Day of Hope. It's the Day of New Things, New Possibilities, a New Future.
But you don't have an Easter without a Good Friday.
And that day was my Good Friday.
The day before, at an inter-company meeting to connect with our new CEO after a transition in leadership, one of my 3 bosses asked if I could meet with him the next morning.
I thought it was a routine meeting. Our company had just changed management and I was excited about the new possibilities. I figured we were going to have a "get down to business" talk, and leave with some fresh ideas and action plans for the future. Honestly, I was excited.
My job was more than a job to me; it was a calling, a vocation. I was energized by what I got to do every day, and though the numbers on paper were slow to grow, I had a mission to help many to reach more with that help every day. I liked all my co-workers, and even came to love a few dear friends. I felt as though my employers and everyone around me were "for" me.
As I walked in that morning, I saw that all 3 of my overseers were already in a meeting together. As I approached the door, I could see that all three of them had red eyes – and my direct overseer's eyes were welled up with tears (we were and are good friends). When they saw me, the main manager said, "Dan, good to see you. Come on in."
After a few moments of small talk, there was a pause, and our primary leader said, "Dan, we have some unfortunate news for you." They were compassionate. My job would be terminated immediately, I would receive two weeks' pay as severance, and that was the best they could promise. The new CEO of the organization no longer wanted to be in the business I was leading, and the changes were immediate.
They noted that there might be ways of working together in the future, but again, there were no promises.
I remember emotionally staggering from the office that day in a state of grief and bewilderment, trying to get my head on straight, struggling to think clearly as to how I was going to tell my wife. I literally felt like a ghost floating to my car, empty, and without hope – feeling as though God (and everyone) had abandoned me.
I got in my car, and began to drive, alone with my thoughts. I couldn't even think, pray, or talk to anyone; I was so disoriented. Then I saw a large church off to the left-hand side of the road. I drove into their massive parking lot and parked in the farthest corner.
I turned off the car, glanced to see if anyone was around, and let it all out. I pounded on the steering wheel as hot tears streamed down my cheeks. I said, "Why God? Why? Why would I face this loss at this time in my life? It's already been such a hard road for our family, and here I am – unemployed in a place I've never lived before, after moving here only a few months ago. I'm afraid, I don't know how I'll provide for my family and I don't know what to do."
You know, the funny part is that I was so disoriented that I only later realized again that it was Good Friday. Good Friday is the day Christians around the world celebrate a suffering God, a God who goes to a cross, a God who gives his best for the sake of others.
I remember so vividly how the Lord, in that moment of my primal anger and honesty, began to lovingly whisper to me.
You know, Dan, today is Good Friday. Today is a day for you to mourn and grieve and be bewildered. A few thousand years ago, others felt like this, too. You have faced a great fear. But I want to tell you that if you'll walk with Me, we'll walk into tomorrow – which is Holy Saturday. You will still be reeling from having faced your fear today, from the loss and the pain of it all, but you will begin to see shades of hope, glimmers of possibility, moving through your heart and your mind.
Dan, I want to remind you that when we face our fear, there is always a Resurrection Sunday awaiting us. You will take My hand, you will rise with Me from this, and we will move forward into the future.
Fear is like a wall in our lives; we come up to it, though we've done everything in our power to avoid it, and we hate being put in that position. Some people form their entire personalities around avoiding their fears, facing the wall and avoiding contact as best they can. They try to go around their wall of fear, or they turn and run away from their fear.
One of our greatest acts of courage will become who we choose to be in that moment – someone who avoids the fear, or someone who walks into the fear – to become you were designed to be on the other side.
My story ends well. A year later, I cannot tell you how elated my wife and I were that the company had let me go. I was a different man. I had contracts to fulfill, a sense of personal freedom to do what I needed to do, and we had learned some great lessons about how to view and handle money. Today, I honestly believe that God was the one behind me being let go. For real. In fact, my three circumstances of sudden job loss, I believe, were God's gift of training for me to talk to you.