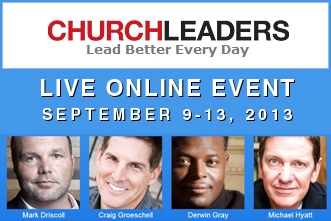 Free Online Event
Sign up for this free online event, which will take place September 9-13, 2013 at 1:00 pm Eastern daily.
Don't miss this FREE training opportunity to position your ministry for serious growth. Sign up now!
You will gain powerful insights from the following speakers:
Mark Driscoll: High-Impact Preaching
Craig Groeschel: Leadership Growth
Derwin Gray: Outreach Strategies
Michael Hyatt: Building Your Platform
Resource provided by churchleaders.com
Registration Instructions: To register for this event, enter your email address in the field provided and click on the blue Sign Up button.