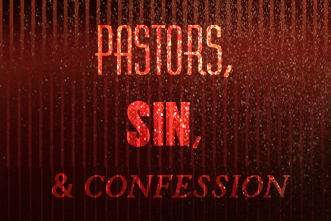 Therefore confess your sins to each other and pray for each other so that you may be healed.
One of the defining moments of my spiritual life happened in the midst of great temptation. I had struggled with a sin for quite a while, dabbled in it here and there, toying with my own spiritual life and ministry. My love for Christ was giving way to the allure of sin's pleasure. I felt myself slipping down a slope that was far more powerful than all the strength within me. I had the keen sense that absolutely everything was at risk at that moment, my job, my marriage, and my family. The point of no return seemed immediately in front of me. It was then that God in his blessed grace whispered in my ear, "Make the call." The face of a friend and brother in the Lord was in my mind's eye. I respected him greatly—and he respected me. I didn't want to be vulnerable to him, to confess my struggle. But it was either pick up the phone or fall off the cliff. Thank God, I made the call. It was painfully humbling—and tremendously freeing. He was so Christ-like, full of grace, strength, and humility. Something happened in me that day, something very deep and powerful. Somehow, I accessed the power of God through another person like I couldn't have done in the solitude of my own soul. It seems that's just how God has designed things to be. He's configured our dependence on him to be intertwined with dependence on others.
We surveyed 500 church leaders about their own struggles with sin. The results are valuable for all in ministry to ponder and respond to. In light of my own experience and the survey results, I felt burdened to dedicate this article to addressing pastors in their struggle with sin. (Click here to view the full results)
Here are the summary results:
35% of the church leader respondents identified lust as the sin they struggled with most.
36% of church leaders said lust was something they often or constantly struggled with.
68% either did not have anyone they felt they could confess to, or if they did, they rarely or never confessed to them.
66% expressed that discussing their struggles with sin from the pulpit would put their ministry at risk, or they were unsure if it would put their ministry at risk.