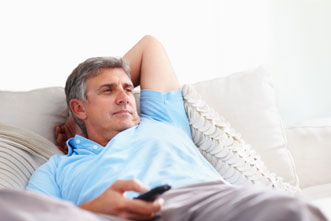 Most of our traditional Easter practices happen on Easter Sunday: going to church with family, a sunrise service, a special dinner, wearing fancy spring dresses, hunting for eggs, and so forth. In church, we sing music reserved for Easter, hymns such as "Christ the Lord Is Risen Today." And in many of our churches, we greet one another with the classic resurrection greeting: "Christ is risen! He is risen, indeed!"
I love these traditions. (Oh, for the record, I don't wear Easter dresses. But I love seeing my daughter in hers!) It's convenient that I am a fan of Easter traditions because when I was the Senior Pastor of Irvine Presbyterian Church, I participated in four services each Easter morning, starting with a sunrise service at 6:00 a.m. As you might guess, one of my Easter traditions included taking a nap in the afternoon!
In the last few years, I added one more tradition to those I have cherished for years. This one might be surprising to you. It might even seem a little odd. Here it is: During the season of Easter, I listen to Handel's Messiah.
Now before you think I'm confusing Easter and Christmas, let me explain. I know that we tend to associate the Messiah with Christmas, and for good reason. The first part of this musical masterpiece does celebrate the birth of Jesus: "For unto us a child is born…" Yet if you listen carefully to the whole Messiah, you may be surprised to learn that the birth of Jesus comes about 25% into the piece. The death of Jesus comes near the halfway point. The final 40% of the Messiah celebrates the resurrection of Jesus and its implications. This means, in terms of number of minutes, the Messiah is more of an Easter piece than a Christmas piece.
But what about the beloved "Hallelujah Chorus"? Isn't it found in the Christmas section? Not in Handel's original composition. It comes at the end of Part II as a celebration of the resurrection and the beginning of Christ's reign as "King of kings and Lord of lords."
The fact that George Frideric Handel (1685-1759) intended the Messiah as an Easter celebration is evident, not only in the libretto (the words) of the piece, but also in the circumstances of its debut. Handel's masterpiece was first performed in Dublin on April 13, 1742, 19 days after Easter. This is surely no accident. If he had intended the Messiah for Christmas, surely he would not have planned for an Eastertide grand opening.
Let me be clear that I don't have a problem with anyone listening to the Messiah during the season of Advent and Christmas, I do this very thing every year, quite happily, I might add. Moreover, one of the highlights of my musical life was joining the choir of Irvine Presbyterian Church as we sang the Christmas portion of the Messiah (plus the Hallelujah Chorus) along with an orchestra. (You can hear a short clip of our choir by clicking here.)
But let me encourage you to join me in what might be a new Easter tradition for you. Listen to Handel's Messiah all the way through. It takes a little more than two hours, and is well worth the time. You might also want to study the libretto, noting the brilliant use of Scripture. But then just let the music lead you to a joyful celebration of salvation in Jesus, beginning with his birth, continuing through his life, death, and resurrection.
I will close by quoting the last words of the Messiah, other than the three-minute series of "Amens."
"Worthy is the Lamb that was slain, and hath redeemed us to God by his blood, to receive power, and riches, and wisdom, and strength, and honor, and glory, and blessing. Blessing and honor, glory and power be unto him that sitteth upon the throne, and unto the Lamb, for ever and ever." (based on Revelation 5:12-13)
P.S. If you'd like a more detailed study of Handel's Messiah and its Easter focus, you might check out a series I wrote a couple of years ago: Handel's Messiah and Easter