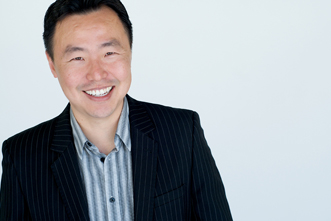 Charles Lee is the CEO of Ideation, a consultancy that specializes in branding, marketing, design, web, social media, and event development. He is also the creator of the Idea Camp and leads New Hope, a faith community in the Los Angeles area. In this interview we talk to Charles about his recent reads, the next Idea Camp and the two questions every ministry leader should be asking when it comes to sexuality and the church.
Charles, before we chat about the Idea camp I'd like to ask a couple random questions. First, I'd love to know the three most recent books you've read?
Open Leadership, by Charlene Li, Making Ideas Happen, by Scott Belsky, and The Networked Non-Profit, by Beth Kanter.

If I turned your iPod on right now what bands am I likely to find?
U2, Dave Matthews Band, Muse, Matt Redman.
I love Muse and Matt Redman. I over-listened to U2 though. OK, let's jump into the Idea Camp. For the next session you're dealing with a pretty tough subject—sexuality and the church. This Idea Camp will be held Las Vegas. So, you're hosting a church event about sexuality in Sin-City? Was that irony planned?
We try to choose cities that reflect and symbolize the conversations we're hoping to facilitate. We thought that Las Vegas would be a perfect venue for the topic on sexuality. With this being said, we do recognize that EVERY city deals with these issues. These sexual issues may not be as visible in other cities, but research has shown clearly that it's present everywhere.
Do you think the church generally does a good job dealing with sexuality and sexual issues?
I think most in the Church recognize that sexuality and sexual issues are important to address, but generally lack the understanding and resources to deal with them in a healthy way. Issues related to sexuality may sound fairly black and white, but in reality, they are very complex and multi-layered. Most pastors probably won't be equipped to lead a church into engaging these areas without outside help. In addition, church leaders are not immune—statistics show that the majority of church leadership struggle with sexual issues. The tension of leading a church towards wholeness in this area while internally struggling oneself may feel like an insurmountable endeavor.

What are the top three sexual issues that the church must address in today's culture?
Sexual Addiction, Sexual Orientation, and Sexual Abuse.
How can we make the church a safe place to deal with and confess sexual sin?
I think that leaders need to care and intentionally talk about it. Many leaders have confronted those who find themselves in sexual brokenness and pain, but very few have committed themselves to walking long-term with people towards healing and restoration. We, as the Church, have not done the best job of restoring people while keeping them within their own respective faith community. The metaphor of being family in these times has not yet become the strongest identifier for the body of Christ. Also, we need to tap into the wisdom of those who have walked through brokenness and restoration themselves. There's much wisdom to be gained and transferred by our wounded healers.
What are two questions about sexuality and the church that ministry leaders need to be asking today?
Two Questions: 1) Am I willing to engage the sexual issues in my own life despite my own struggles and past? 2) Will I allow these issues to become an open and safe conversation that leads to health and healing—even if discomfort and resistance may be the initial response?

What's at stake if the church doesn't talk about sex?
It is silently killing relationships, marriages, self-perceptions, and faith in God—both for congregants and church leaders. The amount of pain and guilt that is often associated with these issues is crushing to the soul. It is often the area of life that the Enemy latches himself to in order to prevent us from living life to the fullest.

What are some cautions/encouragements you would give pastors when it comes to preaching and teaching about sexual issues in the church?
Don't pretend that you are an expert in these areas unless you actually are. Lean upon the expertise of those who work in these professionally. Commit to learning and reading about these issues for the long run. Never forget that prayer is essential to engaging this area. The reality of darkness becomes very clear once you begin to address these areas. Last but not least, stay hopeful and optimistic. We have a God who deeply cares and desires all of us to live with joy and wholeness in the areas of sexuality.
For more on the Idea Camp, watch this video.