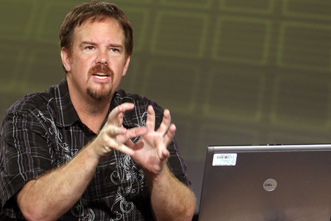 While large churches may get the most attention, small churches are the lifeblood of most denominations. With this fact in mind, Ed Stetzer, director of LifeWay Research, hosted on Sept. 7 a special day-long live webcast of his popular "The Exchange," devoted entirely to "Transformational Small Churches" at the home office of LifeWay Christian Resources in Nashville, Tenn. Joining him as co-host was LifeWay President and CEO Thom S. Rainer.
The webcast content was based on research gathered by LifeWay Research, which was subsequently released in the book Transformational Church, co-authored by Rainer and Stetzer.
"There is no magical starting point for becoming a transformational church," Stetzer said, emphasizing prayer drives and undergirds everything. "Prayer happens naturally out of the community of believers."
A highlight of the event was an interdenominational panel of small-church pastors. Philip Nation, director of ministry development at LifeWay, convened the group. He collected questions submitted by the online audience and presented them to the group. The panel of pastors included Brian Bullard, Community Fellowship Baptist, Covington, Ga.; David Gould, First Wesleyan, Nashville, Tenn.; German Castro, El Shaddai Christian, Brentwood, Tenn.; Jason Whitehurst, Music City Assembly of God, Nashville, Tenn.; John Racioppa, Westmoreland Baptist, Westmoreland, Tenn.; and Lynn Harper, Promised Land Missionary Baptist, Dallas.
When asked what specific challenges they have faced in the past year, Castro said the Nashville flood in May destroyed their church facilities. "We lost everything," he said. "What began as a tragedy for us has become a blessing. We are now sharing space with a neighbor church that we didn't have a relationship with before. Our people have realized that the church wasn't the structure. It is the group of believers. We still have a church, just not a building."
Gould said that in achieving growth, the church has to accept the reality that it will change. "We're an urban church. When we grow, we are going to look different. We will have to move forward."
Bullard said that in a smaller church, the pastor is more likely to be involved in everything since there is no staff with which to share responsibilities. "To get people involved in ministry, a small church pastor and at least one other person have to get up and go out and do ministry," he said. "As people see that success, they join in. We have to have a mindset that we are not just a church in the community, but of the community."
Another issue small churches face is that without a large volunteer base, they can't do everything that larger churches do. Whitehurst said their church had to make the hard decision to give up the Sunday morning Sunday school time and move to home fellowship groups. "We'd always done Sunday school, but for us, in our situation, that Sunday morning time just didn't work anymore," he said. "It was a hard decision for us, but when we did it, we began to see immediate health. We just couldn't do it all."
Bullard echoed that. "I looked at our website and saw how many ministries we had – too many! I decided to cut the number back to just seven and told the congregation we would focus on those. We had to cut back. I asked everyone to choose one ministry and commit to it." He said that some of the people who felt drawn to a particular ministry were allowed to continue it, of course, but weren't allowed to recruit.
Gould agreed. "We looked at the book Simple Church and had to determine what we could do well, then we focused on those things."
Nation closed the session by saying, "When you look at what is happening in these churches represented here, you can see that ministry in a small church can be done effectively. Transformation is happening."
"The Exchange" monthly webcast can be viewed at LifeWay.com/TheExchange. The next regular episode is scheduled for Tuesday, Oct. 12.