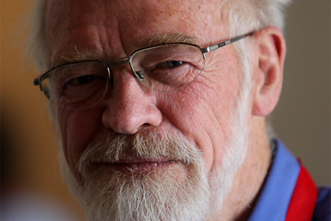 An Interview with Eugene Peterson
Gabe:
Eugene, I understand that at one time you were a pastor. Could you tell us about what kind of a pastor you were and what kind of advice you might have for today's pastors?
Eugene:
First of all, I never intended to be a pastor. I was going to be a professor and was preparing for that. I got a part time job in a congregation just to help with the finances. And I realized this is what I wanted to do all my life. I didn't know there was a job for this. So over a period of three years, I changed my vocational direction and became a pastor and had a chance to start a new congregation.
In some ways, I was totally unprepared. I learned on the job. I soon found that the prevailing idea of what pastors are in America was something I didn't care to imitate. In nearly 30 years at Christ our King Church, we tried to discover the roots of pastoral vocation in America, but in continuity with what's been going on for 2,000 years.
Gabe:
Historically, what did you find was the vocation of a pastor?
Eugene:
There are a lot of different ways to serve the Lord: evangelism, missionary work, organizational work, etc. A pastor has a unique place in all of this. I realized I needed to stick to what I was called to do. The way I understood the uniqueness of the pastoral vocation is that it is insistently personal. You cannot do pastoral work in a programmatic or impersonal or organizational way.
You've got to know the names of these people, know their lives, be in their homes. The unique vocation of pastor is to know those people. And at the same time, to know the scriptures, the whole world of scripture, so that stories of those people get integrated to the stories of scripture.
Gabe:
Most all of the books you've written tend to focus on pastors. Why is that?
Eugene:
When I became a pastor, I found that a lot of pastors hated what they were doing. They were cynical. They were disillusioned. A lot of them quit. They still do. The fallout in the pastoral vocation is enormous. I was finding being a pastor was the most exciting thing I'd ever done. You're right in the middle of all this sin and salvation and death and birth, and it's all so local, and it's all so personal. If I hadn't been writing the kind of stuff I've been writing, I'd have been a novelist because the congregation is a rich source of human relationships and God relationships and spiritual relationships.
Gabe:
The role of a pastor that you just described in a very fragmented society obviously becomes very counter-cultural. Is this new, or has it always been that way?
Eugene:
It's always been that way, but the American situation puts different pressures on it. For instance, there have been times when you could have large churches, but they were large in the community. You could have 2,000 people in the church, but they were all your neighbors. That isn't true anymore.
The fact is, if you read your church history carefully, using the American definition of success, there's never been a successful church. It's always been counter-cultural. Biblically, it was same way. Israel was never successful- they were always a mess. And the prophets and priests were trying to get them back in the community. Sometimes they did, but not in a way that characterized the whole nation. And certainly not in a way that impressed Egypt, Syria, Mesopotamia, Babylon, Rome, or Greece. None of those people were much impressed with the church.
Gabe:
Most people know your name because of The Message; can you talk about why you felt the need to write this very unique translation of the Bible?
Eugene:
Well, it wasn't my idea. I would never have dreamed of doing it, to tell you the truth. It would be too daunting. I was asked to do it. It started with a Bible study which wasn't going very well on Galatians. I shifted my approach and translated Galatians into the language I thought those people were speaking. And it worked really well. I did it for a whole year with this group of 14 or 15 adults.
Then I put it into a book. A few years later, an editor from NavPress called me up and said, "I've been reading this translation that you made of Galatians, and I've been carrying it around. I photo copied it. I've been reading it to my friends, reading it myself, and we're all just getting really tired of Galatians. Why don't you do the New Testament?"
That's how it started. I was reluctant to do it. I didn't think I could, and I said "no" for two or three years. Then I left my congregation intending to write. That's when the editor called again, and I said, "I can give it a try, I guess." That's how it started.
Gabe:
Was it daunting to consider the idea that you would be writing a translation of the Bible?
Eugene:
To tell you the truth, I never thought I would because I didn't think anybody would buy it. So I wasn't intimidated by being counted in the company of Kenneth Taylor or JB Phillips or James Moffett. I just was doing my work. What happened as I was doing this is I realized I'd been doing it all my life.
This is the way I've been thinking and talking with my congregation. This is my style of preaching, my teaching. I started out as a teacher of biblical languages. I always read my Bible in Greek and Hebrew. It had been kind of composting in me all those years. And now, here it was coming together in a way I never expected it to come together. It seemed pretty natural, to tell you the truth. It was an integration of everything I'd been doing for 50 years.
Gabe:
Storytelling is a lost art in today's culture. Do you think that's part of the reason for the success of The Message?
Eugene:
I think so…the Bible is basically a story; most of it started out not as written but spoken. I tried to recapture the orality of what was written. Originally, there were no verse numbers. People were reading this as a story. You wouldn't read a page or a paragraph of a novel and quit. There's a whole story to be known there. I successfully kept verse numbers out of the text for several years, but finally had to give that up.
Gabe:
Let's talk a little bit now about the topic of rhythm. I know that you like to refer to a balanced life as a life in rhythm. And the balance of living by rhythm versus living by schedule is a pretty tough thing to practice. Can you give us some insight on how you practice that and how to implement that in our lives?
Eugene:
Let me qualify this by saying that rhythm is very individual. You can't impose a rhythm on somebody; you have to enter into a rhythm. And people don't have to have the same rhythm. Some people can walk in three-quarter time and some in four-four time. You don't have to do it the same. You can't do it the same. You've got to find the rhythm of your own body, your own life, your own history. Having rhythm means that you live out who you are in relationship to who God is, who Jesus is. So it's more like a dance.
One of the hard things in America is to escape this scheduled world that we're living in-where things are so disconnected from the seasons, from the night and day, the rhythms that are around us and that are within us, our heartbeat, our pulse, our breathing. So if we just let the culture determine the way we live, we're going to live pretty jerky lives. I think for me, and for many I've worked with and talked to around this, the place to begin is the Sabbath. The Sabbath is the one interruption into the life of jerky fragmentation that is still possible. You can take a day off.
Gabe:
What should a Sabbath look like in my life? What does it look like in yours?
Eugene:
A day of unplugging. That's a good way to put it. When I was a pastor, the Sabbath was on Monday, because Sunday was a workday for me. My wife and I didn't practice Sabbath when we had small children, because it took us a few years to figure out our rhythm.
But typically on a Monday, we would pack a lunch, and we would go to the woods. We'd hike for three or four hours in silence. Then we prayed, had lunch, talked, and worked our way back home.
We'd get home by the time the kids were home. Interesting, they loved this. We weren't uptight about anything because it was the Lord's Day. We played and we prayed and didn't do anything that wasn't necessary. Unplugged everything, basically.
It transformed our lives, our family life, our personal lives, and our congregational life. Not everybody did it, but they saw us doing it. Somehow that gave them a sense that they don't have to do what the world's telling them to do. It really does take effort and determination. Those of us who want to keep the Sabbath are going to have to be pretty intentional about it. I've been doing this for at least 40 years consistently, and I've had dozens of students and parishioners who have also adopted this practice. Most of us find it's the most radical thing we've ever done-and the most creative.